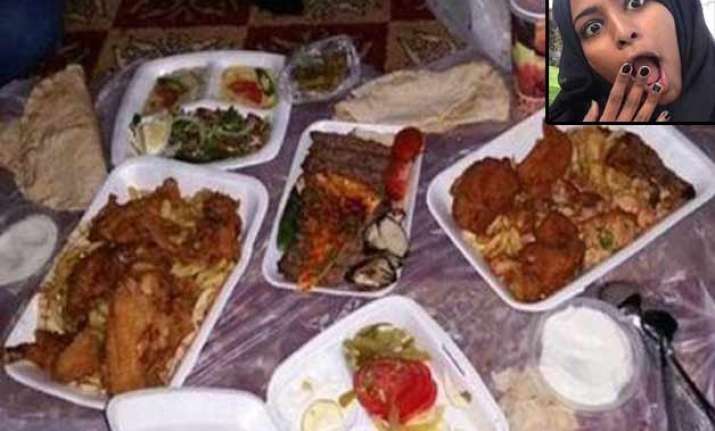 A UK teenager who ran away from her home in East London in February to become a 'Jihadi Bride' in Syria has recently tweeted pictures of her lifestyle in the Islamic State.
The fully-veiled 15-year-old has boasted of a luxurious lifestyle by posting pictures of takeaway dinner which she had with one other female Jihadi friend of hers.
The girl, Amira Abase, ran away with two others – Shamima Begum (15) and Kadiza Sultana (16) from Bethnal Green in February with a clear motive to become Jihadi.  The trio had flown to Istanbul from Gatwick Airport crossing into Syria having told only this to their parents that they will be out only for a day.
Two months after that Abase has confirmed her stay in the Syrian city of Raqqa by posting the picture of the dinner which she had with another16-year-old who calls herself 'Muhajirah'.
Amira (under the name Bintt Abbas) tweeted 'dawla takeaway w/ @um-ayoub12'.
Dawla is the other name of Islamic State while 'Um-ayoub12' is the Twitter account of Mujahirah.
The captioned picture shows only the meal including fried chicken, chips, pizza and a kebab.
The shared tweet bears a strong contrast with respect to the news of brutality towards females frequently heard from the Syrian state. Through different news reports it was learnt that females of all age are subjected to different types of brutalities under the siege of ISIS. Very young girls as old as 8 or 9 years are made sex slaves, raped and tortured for months.
Recently, it was also learnt that some of the Yazidi girls who were made captive by ISIS and were subjected to similar brutalities are getting aborted in hospitals of Kurdistan at a very young age.
Sometime before, Abase had also tweeted a chilling message "uh wanna behead some kafirs (non-muslims) now".
The tweets before the trio left for radicalization in the war-raged state, shows normal life of young London teenagers with no indications of their dreadful future plans.
However, recently it was learnt that Abase and her two classmates had joined the group of British female Jihadis who run ISIS's ultra-religious police force and were training with one of the notorious female arms of ISIS.
Shamima Begum is believed to have forged social media links with three of the British leaders of the al-Khansa brigade, an all-women militia set up by the terror group a year ago.
What is Al-Khansa brigade?
It is an all-women group of ISIS, fully-dressed in black, wielding automatic weapons while patrolling streets of Raqqa. Their job is to spy on commoners and carry out brutal assaults on whosoever does not abide by the laws of the terror group.