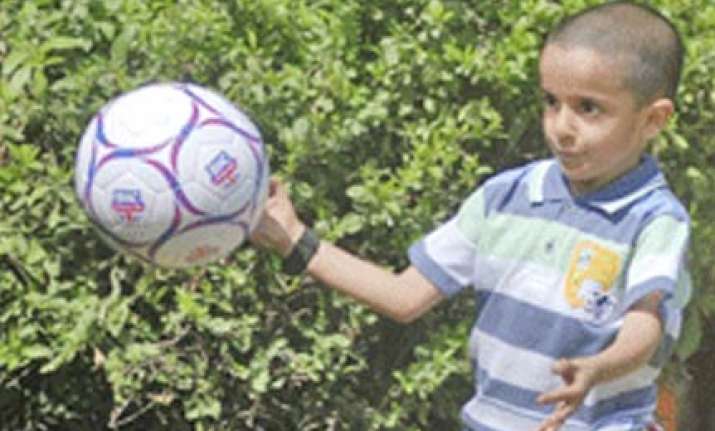 Smiling and in high spirits, a five-year-old British boy boarded a flight home from Pakistan on Thursday after being reunited with his overjoyed father following a 12-day kidnapping ordeal.
Sporting a new hair cut, Sahil Saeed kicked around a football on the lawn of the British high commissioner's residence in Islamabad, joined by a little girl playmate, and was smothered in hugs and kisses from relatives.
Smiling and waving as he was cuddled by his relieved father, Sahil seemed in high spirits and gulped down a drink brought out by a member of the household staff, television footage showed.
The emotional reunion came after his father, Raja Naqqash Saeed, flew back to Pakistan to collect his son and return him to Britain, days after the boy's uncle dropped off a 110,000 pound (168,000 dollar) ransom in Paris.
"I am completely overjoyed that I have been reunited with my son after such a long ordeal," the father said in a statement released by the high commission.
"Sahil is doing well, is in good spirits and can't wait to return to the UK to see his Mum, his family and join his friends back at school," he added, thanking British and Pakistani authorities for assisting in his son's return.
The father, son and an uncle took off for Manchester aboard Pakistan International Airlines flight 701 at 3:15 pm (1015 GMT), PIA official Mohammad Imran told AFP.
British High Commissioner Adam Thomson said he was "thrilled" that Sahil was back with his father.
"This brings to an end a long period of terrible anxiety and uncertainty. I wish them all the best as they rejoin the rest of their family back in the UK," he said in a statement.