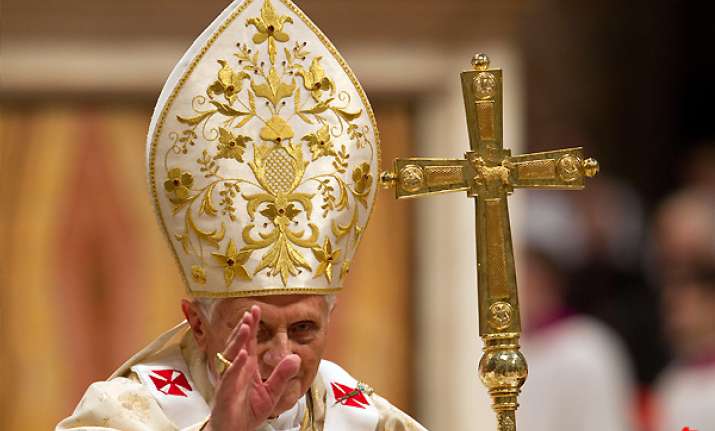 Vatican City, Dec 25: Pope Benedict XVI decried the increasing commercialisation of Christmas as he celebrated Christmas Eve Mass on Saturday night, urging the faithful to look beyond the holiday's "superficial glitter" to discover its true meaning.

"Christmas has become a commercial celebration," he said. "Let us ask the Lord to help us see through the superficial glitter of this season, and to discover behind it the child in the stable in Bethlehem, so as to find true joy and true light."

He also had a word for people around the world - including migrants - facing Christmas in poverty.

"And let us also pray especially at this hour for all who have to celebrate Christmas in poverty, in suffering, as migrants," he said, "that a ray of God's kindness may shine upon them, that they - and we - may be touched by the kindness that God chose to bring into the world through the birth of his Son in a stable."

Benedict presided over the service in a packed St. Peter's Basilica, at the start of an intense two weeks of Christmas-related public appearances that will test the 84-year-old pontiff's stamina amid signs that fatigue is starting to slow him down.

The Christmas Eve Mass was brought forward by two hours to spare the pontiff a late night that is followed by an important Christmas Day speech.

And in a new concession this year, Benedict processed down the basilica's central aisle on a moving platform to spare him the long walk.

He appeared tired by the end of the Mass and a dry cough interrupted his homily.

Security was tight for the evening Mass, as it has been in recent years.

There was no word of any repeat of the 2008 and 2009 Christmas Eve security breaches, in which a woman with a history of psychiatric problems and wearing a telltale red sweat shirt jumped the wooden security barrier along the basilica's central aisle and lunged for the pope.

On Sunday, Benedict will deliver his traditional "Urbi et Orbi" speech, Latin for "to the city and the world," from the central loggia of St. Peter's overlooking the piazza.

Usually, the speech is a survey of the sorts of hardships and wars confronting humanity. He's also due to deliver Christmas greetings in dozens of languages.

Next weekend, he'll preside over a New Year's Eve vespers service, followed by a New Year's Day Mass. A few days later he'll celebrate Epiphany Mass followed by his traditional baptism of babies in the Vatican's frescoed Sistine Chapel.