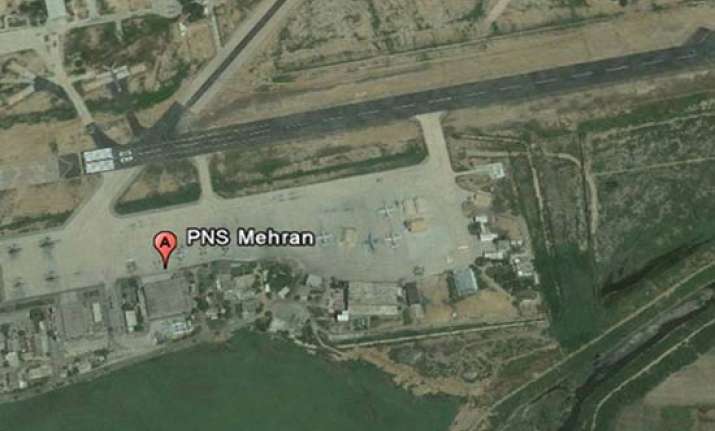 Karachi, May 22 : Pakistan Naval Station Mehran, is a Pakistan Navy naval base and the headquarter of the Navy's Naval Air Arm.The PNS Mehran, the navy's first Naval Air Station, was commissioned on 26 September 1975 to support Fleet Operations.  

The base is situated in Karachi, 10 kilometres (6.2 mi) from Quaid-e-Azam International Airport.Sea King helicopter was the first machine to fly from this Base. Atlantic and Alouette soon joined the Naval Air Arm.

Taking a start in 1975, Naval Aviation has grown to its present inventory of 27 multi role aircraft.The latest addition in the Air Arm is Lynx helicopter and P-3C Orion Maritime Patrol aircraft.
In early years of its establishment in 1975, Naval Air Arm depended upon Pakistan Air Force and Pakistan Army to meet the training requirement of air and ground crew.  

In April 1988, Naval Aviation Training School (NATS) was established to impart training to air and ground crew of the Pakistan Naval Air Arm. The school is also geared to train surface fleet officers and men to meet the various requirements of ship borne flight operations.

The Air Engineering Department (AED) was established in the mid-1970s at PNS Mehran with the assistance of Pakistan Army and the Air Force.

The AED initially began with limited first line maintenance of aircraft backed by rudimentary workshop facilities Progressively, the scope of the Air Engineering Department expanded with the corresponding increase in aircraft inventory and their growing technical obligations.

As of today the AED, with a highly skilled workforce of 1,500 service personnel and 300 civilian technicians, is capable of undertaking overhaul and rebuild of P3C, Atlantic, Fokker, WestSea king and Alouette aircraft without foreign assistance.


Functions of AED

The functions of the AED encompass diverse maintenance activities that range in sophistication and depth. The repair and maintenance work varies from basic inspections to complete stripping and rebuilding of aircraft. The AED performs the following functions.

Provide technical advice and assistance to squadrons;

Extend Second & Third Level maintenance support to squadrons;

Undertake complete stripping, inspection, refurbishment and rebuild of rotary and fixed wing aircraft;

Conduct Third and Fourth level maintenance on aircraft equipment;

Design and embody aircraft and equipment modification;

Undertake aircraft structural repairs; and Conduct and monitor training of air and ground crew.