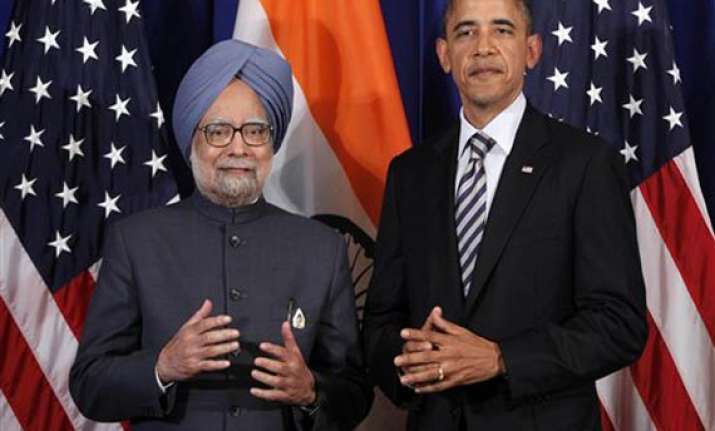 Bali, Nov 18 : Asserting there were 'no irritants' in Indo-US ties,Prime Minister Manmohan Singh today met President Barack Obama and said India was ready to discuss within 'four corners' of the law any specific grievances of American companies over civil nuclear liability issues.

Obama was also told by Singh during their hour-long meeting here that that the liability rules formulated in India has gone "some way" to respond to the concerns of American companies.

Emerging out of his parleys, Singh said he explained to Obama the law of the land on liability issue regarding the civil nuclear deal.

"I explained to him that we have a law in place. Rules have been formulated. These rules will lie before our parliament for 30 days.

Therefore, we have gone some way to respond to the concerns of American companies and within the four corners of the law of the land we are ready to address any specific grievances," Singh told reporters after his meeting with Obama on the sidelines of the ASEAN and East Asia Summits in this resort town in Indonesia.
The notification for conduct of nuclear business with India was made public on Wednesday.  Singh, who met Obama for the first time after latter's trip to India last November, also talked about strengthening the bonds of strategic ties put in place during the historic visit of the US President to New Delhi and Mumbai. 
"I am very happy to report to you that today there are no irritants whatsoever in our working together in multiplicity of areas both bilaterally and on global issues," Singh said in his opening remarks.

The Prime Minister also said India was ready to ratify the Convention on Supplementary Compensation for Nuclear Damage."I also told him (Obama) that we'll ratify the Supplementary Convention... that's where the matter stands," Singh said.