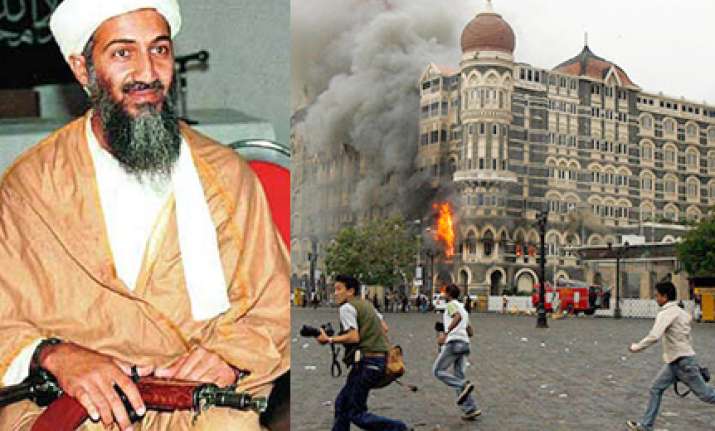 Washington/London, Oct 1 : World's most wanted terrorist Osama bin-Laden is masterminding an unfolding plot to launch Mumbai-style attacks on European cities as US, British and European intelligence and security agencies have stepped up manhunt to nab the plotters.
Bin-Laden believed deep in hiding in the tribal areas of Pakistan used couriers to send messages to al-Qaeda affiliates and partners several months ago, telling them he would like to see a Mumbai-style attack on at least three strategic targets - the UK, Germany and France, the US National Public Radio (NPR) said citing American officials.  
The radio said gunmen planned to fire at busy European tourist sites and take over hotels in a plot that would mark a new style of attack for al-Qaeda. "The United States may also have been in bin-Laden's sights," NPR said.  
"We know that Osama bin-Laden issued the directive," said an officer familiar with the intelligence surrounding the plot.  The public radio said that initial tip-off about the plot came from Ahmed Siddiqui, a German national currently being held at the US run Bagram air base near Kabul in Afghanistan.  
The German has been flagged off as someone of interest to counterterrorism officials as he allegedly knew one of the 9/11 attackers Mohammad Atta with whom he worshipped at a mosque in Germany.  
Siddiqui, US officials said, is a member of an al-Qaeda affiliate Islamic Movement of Uzbekistan, who told interrogators that he was trained in Pakistan by the Haqqani network. "If the Haqqani network is involved that means that al-Qaeda has picked up the plot from the Pakistani terror outfit Lashkar-e-Taiba," US officials said.  
It was LeT which was accused by India of masterminding the Mumbai attacks in 2008, when 10 heavily armed gunmen took over hotels and opened fire in a crowded train station which brought India's financial capital to a stand still for three days in carnage in which 166 people were killed. The public radio said US officials believed that some of the operatives who were due to participate in city shootouts were already in Europe.  
Meanwhile, reports from London quoting western security officials said that a terror plot to attack European cities was "still active".  But European and US officials say that plot is still in its early stages and not considered serious enough to raise the terror threat levels.  
"That the plotters are still active is apparent from telephone intercepts by intelligence agencies in Britain, Germany and Pakistan," 'The Guardian' reported.  
The paper said eight Germans and two British brothers were at the heart of the plot, with the main suspect believed to be hiding in North Waziristan, Pakistan's tribal region where militancy is rife and where the US has focused its drone strikes.
German intelligence officials have said that there are indication that some 220 people had travelled from Germany to Pakistan and Afghanistan for terrorist training.  
A Federal criminal officer has said that out of these 70 were listed as hardcore militants and about a third of these had made their way back to Germany. PTI