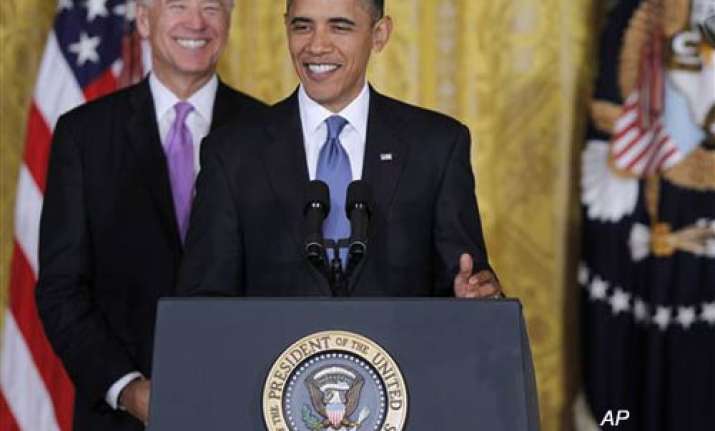 Washington, Oct 27: US President Barack Obama would begin his India visit on November 6 with a message of condolence for the victims of 26/11, and will then celebrate Diwali with school children of the city along with First Lady Michelle.
Obama would also visit the Gandhi Museum in Mumbai where he is also scheduled to attend a major business meeting, before heading to New Delhi, a top White House official said today briefing reporters on Obama's maiden trip to India from November 6 to November 9. 
Obama would celebrate the festival of lights with children in Mumbai. But Diwali celebrations would not commence until he pays homage to the victims of 26/11 on November 6 at the Taj Hotel -- which was the "centerpiece" of the 2008 terror attacks. 
"The first event that the President will do will be a statement at the Taj Hotel, where he's staying, to commemorate the Mumbai terrorist attacks," Deputy National Security Advisor for Strategic Communication, Ben Rhodes, said.He pointed out that India is a close counterterrorism partner of the US and it has shown "remarkable resilience" in responding to terrorism. 
He said Obama desired to pay his respects to the victims as also to make brief remarks to a group of people connected to the attacks. 
Obama will then visit the Gandhi Museum. It is notable that the US President considers Mahatma Gandhi as one of his inspirations.
Rhodes said it is important to note that the US and India are world's largest democracies, a fact fundamental to their relationship and which makes it a "qualitatively different relationship" with shared interests and values. 
"... the example of Gandhi is one that has inspired Americans, inspired African-Americans, including Dr (Martin Luther) King, and is very personally important to the president. So we're looking forward to visiting the Gandhi Museum to underscore those shared experiences and shared values," Rhodes said. 
Obama will then attend a business summit organised by the US-India Business Council, Rhodes said, adding that US was keen on discussing business opportunities in the huge dynamic and growing market of India and ways to deepend economic ties. 
The President will participate in a roundtable with entrepreneurs, another one with some US CEOs, where challenges and opportunities of doing business in India will be discussed, before delivering a speech to the business summit. 
Obama's stay in Mumbai would stretch to two days and is focused on the future partnership that the US trying to build with India -- a relationship that the US believes is indispensable to shaping the 21st century. 
"The President's going to begin the day (November 7) by visiting a school in Mumbai, a local school. Diwali, of course, a preeminent Indian holiday will be taking place during the President's visit, so he will visit a school and help participate in celebrations around the Diwali holiday that morning," Rhodes said. 
The US President would also hold a town hall interaction with university students and talk with them about the future of India-US ties. 
After a two-day stay in Mumbai, Obama is scheduled to arrive in New Delhi on the evening of November 7, with the 16th century monument Humayun's Tomb being his first cultural stop. 
"He's going to visit Humayun's Tomb, which is one of the great cultural marvels in New Delhi, and the president felt it was important, given the rich civilisation that India has, to pay tribute to that through this stop," he said. 
The same night, the President and the First Lady will attend a private dinner with Prime Minister Manmohan Singh and his wife. 
Rhodes said Obama has had a close personal relationship with Singh ever since the two met for the first time at a G20 summit in London. 
"As much as any leader in the world, I think he's somebody who has had a close intellectual connection with the president on a range of issues surrounding economic growth and development. So he's very much looking forward to this opportunity to have a private dinner with the prime minister," he said. 
Obama's official programme in Delhi will begin after a stop at the Raj Ghat and will then be followed by a bilateral meeting with the Prime Minister and a press conference.
"Again, another opportunity to pay respects to that huge historical figure in our history as well as India's". 
The same day Obama will address the Indian parliament where he will touch upon the broad range of issues on which the US and India cooperate -- political, security and economic. 
"The President was honoured to be invited by the Indians to speak before their parliament," Rhodes said.The state dinner is scheduled for the night of November 8 before which Obama will meet his Indian counterpart.PTI