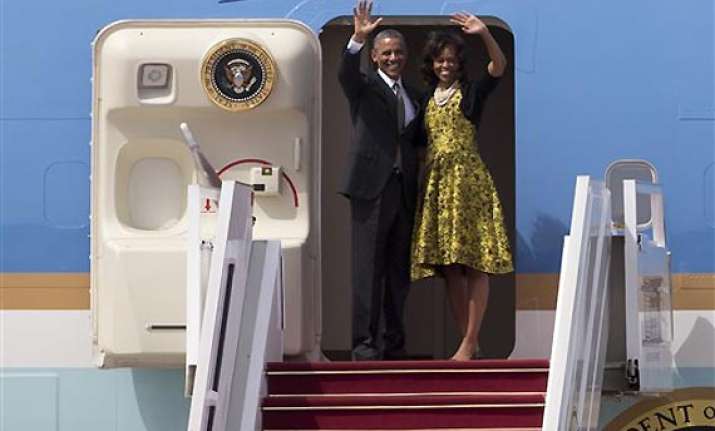 Pretoria, Jun 28: US President Barack Obama will pay homage to his "hero" Nelson Mandela, who is clinging to life at a hospital here, during his maiden South Africa visit which is overshadowed by the deteriorating health of the 94-year-old anti-apartheid icon.
The latest update on the medical condition of Mandela, South Africa's first black president, said his health has improved slightly from an earlier "critical" state.  
Mandela, who turns 95 on July 18, has been admitted to a hospital here on June 8 with a recurring lung infection.  
Mandela's "condition has improved during the course of the night," South African President Jacob Zuma said yesterday after visiting the country's tallest statesman for a second time in 24 hours in the Mediclinic Heart Hospital.  
Zuma yesterday cancelled a trip to Mozambique in view of serious health condition of Mandela, regarded the founding father of South Africa's multiracial democracy and respected across the globe as a symbol of resistance against injustice.  
Ahead of the visit by Obama, America's first black President, his deputy national security advisor Ben Rhodes said he would be speaking to the legacy of Mandela.  
Yesterday, Obama described Mandela as "a hero for the world". "His legacy will linger on through the ages," he said, while on a visit to Senegal.
Obama's visit to South Africa will include a stop at Robben Island, where Mandela spent a majority of his life in prison.
His trip to South Africa also aims to boost investment opportunities for US businesses, address development issues such as food security and health, and promote democracy.  
Obama will be accompanied by his family, senior and advisors and a business delegation. This is his second visit to South Africa, but his first as head of state.  
Zuma's spokesperson Mac Maharaj said, "South Africa values its warm and mutually beneficial relationship with the US immensely. This is a significant visit which will take political, economic and people to people relations between the two countries to a higher level, while also enhancing cooperation between US and the African continent at large."
Obama will be arriving from Senegal as part of a three-country visit to the African continent. He will meet President Zuma tomorrow and leave for Tanzania on Sunday.