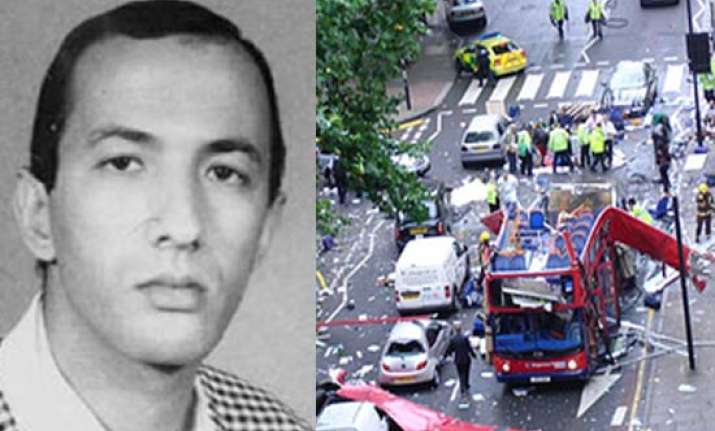 London, May 21: Al-Qaeda's new leader  Saif al-Adel, 51, has vowed to launch a devastating terror blitz on London to avenge Osama Bin Laden's death, The Sun reported.
Saif al-Adel  is determined to make Britain and the US pay, Taliban chiefs revealed yesterday.The fanatic warns that London will be the first to face a new 7/7 atrocity because terrorist cells are already in place waiting for orders to strike.

The threat emerged after a summit meeting of Taliban and al-Qaeda chiefs near Pakistan's border with Afghanistan.They confirmed evil Egyptian terror veteran al-Adel - whose name means Sword of Islam - as caretaker leader. He ordered his followers to concentrate on large-scale international operations like 9/11.

Al-Adel urged them to "crush the infidels" in America and the UK in revenge for the Navy Seals' strike that killed Bin Laden.Taliban spokesman Ehsanullah Ehsan said: "Our new leader has asked for a big plan for London.

"He believes the UK is the backbone of Europe and must be crushed. This will be followed by attacks in other western countries."London was picked out because we have a big representation in the UK." Former commando al-Adel was once Bin Laden's security chief and a key figure in terror plots.

The 7/7 Tube and bus blitz that left 52 dead was the most serious al-Qaeda attack on London.

Taliban and Al-Qaeda leaders met near Pakistan's border with Afghanistan to confirm the new role for al-Adel, 51, who was once Bin Laden's security chief. In response to the heightened threat on London, British Transport Police (BTP) are to be given the power to carry weapons on the capital's trains, stations and the underground for the first time.

Transport Secretary Philip Hammond will next week announce the plan, which is aimed at deterring the threat of another terrorist attack.The BTP, which protects the rail, tube and urban metro system, has 2,900 officers and the proposals involve giving around 100 of them firearms training.

Security officials are particularly concerned about the possibility of an attack like that in November 2008 in Mumbai when gunmen attacked hotels and the city's main railway stations, killing nearly 200 people. The news comes as the Manchester 'Easter shopping' bomb plot has been linked directly to Bin Laden for the first time. Files seized by US special forces from the al-Qaeda chief's Pakistani compound reveal that Bin Laden himself masterminded the Manchester terrorist cell. The files have now been passed to M15.

Twelve men - 11 Pakistanis and a Briton - were arrested over the alleged planned attack against Easter shoppers in April 2009. But authorities were eventually forced to set the alleged plotters free because of lack of evidence against them.