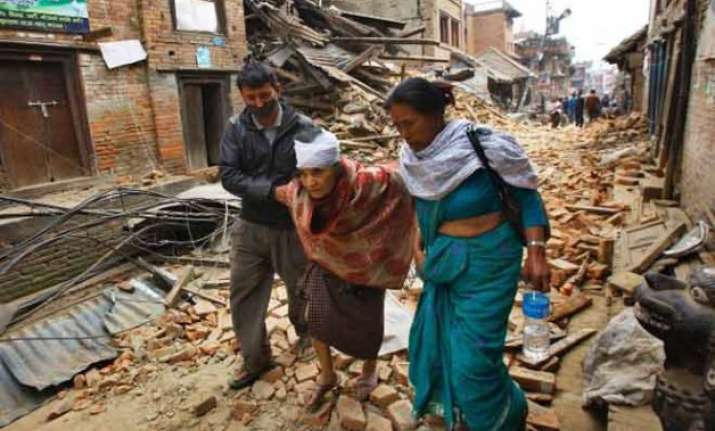 Nepal is witnessing a devastation of unprecedented scale following the massive 7.9 magnitude earthquake that rocked the country on Saturday as death toll has crossed 4300 mark with Nepalese officials speculating it could reach 10,000.Moreover, Sunday's aftershocks has made people only more tense.
Also Read: #NepalDevastated: Death toll crosses 4300-mark, massive hunt for survivors on
 
Rescuers are continuing to dig through the rubble of concrete, bricks, wood and iron to hunt for survivors.
 
The earthquake has reduced houses, temples and historical monuments to rubble in the Himalayan Kingdom. Survivors are yet to come to terms with the calamity and the loss of lives of their loved ones.
 
Here we have compiled the stories of five earthquake survivors  who escaped nature's fury but are gravely affected by the catastrophe.
 
1) 32 year old Bindeshwor Tamang  was shopping at Bishal Bazaar, on New Road in Katmandu, with her six-year-old daughter Kabita, when she felt the tremors.
"Within minutes, the shops and old buildings started falling like a pack of cards," Ms. Tamang said. She got separated from her daughter in the chaos and lost consciousness.
After coming round, she said, she couldn't find her daughter. "I started screaming her name. Suddenly, I saw her stuck under the rubble, I immediately asked for help and pulled her out," Ms. Tamang said.
 
'I'm hungry' were the first words that came out of little girl's mouth after being pulled out, her mother recalls. "I never felt so relieved in my life. I held her tight and immediately checked for any missing limbs, fingers or toes."
Ms. Tamang said her daughter had a fractured collar bone and some cuts and bruises on her face, arms and legs.
 
2) Chandeshwor Maharajan, an ambulance driver in Lalitpur district on the outskirts of Katmandu who survived the massive earthquake recalled the horror. He said " I was in the ambulance when the vehicle  began to shake, violently,"
"I barely was able to get my head out of the window when a tree fell on top of the ambulance," he said. "Had I not rushed out of the ambulance immediately, I would have been crushed to death."
When he looked around to see what was happening, Maharajan said "people were pinned to the ground."
"A vegetable seller lay trapped in a space nearby. Two others had rubble piled on their legs. But I just ran away for my own life and left them to die" Maharajan said adding, "I know my conscience will not let me live."
 
3) Debina, a nurse who works for Child Care hospital in Lalitpur district in Nepal said she and her colleagues found a young girl under rubble after the earthquake. Debina said, "Girl's parents and older brother were killed by the impact."  " The girl, aged between four and five years, had broken her hips," she added.
"Her family members are dead. She is too traumatized and not speaking to anyone," Debina said. "She started crying louder when people went near her. She just keeps repeating: 'I want to be with my mother.'"
 
4) Nanu Nepali who works at Hotel Inn, a lodging in Katmandu, said he was in Kitchen when he felt the earthquake.
He said, "At first, I thought 'It is a tremor, it will pass, but then, as I looked out of the window and the building in front of me started collapsing."
The building he was in shook so much he was thrown to the floor.
"It was God who kept me protected in his arms. That gave me strength," he added.
Then the ceiling caved in on top of him, fracturing his leg and cutting his hands and face.
When he managed to ran out of the building "There was panic everywhere," Nepali recalls. "I could see buildings around the area cracked or tilting to one side."
"A lot of people said it lasted for about two minutes but to me, it seemed like forever." People were too scared to sleep in their houses on Saturday night fearing another tremor, he said.
 
 
5)  Camille Thomas, 18, who hails from Apollo Bay, Australia, was in the at Langtang, a village situated at the foot of snow-covered mountains north of  Kathmandu, when the massive  quake triggred an avalanche  that came racing towards her.
 
"From where we were, after it there was nothing you could see. All the villages were gone," she said.
 
Recalling the terrifying ordeal she said, " When I was under… all you could see was snow coming, coming, coming," the 18-year-old told radio station based in Australia."
There was a bit of an earthquake and my friend and I just laughed about it, we thought it was something small," she said via phone from Kathmandu.
"Then all of a sudden … it all started coming down. It was just white snow for as far as you could see."  "I ran by myself and I was hiding … The snow came down and rocks hit me in my head and my back."
In the chaos, Ms Thomas was separated from her high school friend Grace Graham.
Alone and buried beneath inches of thick snow, she began to fight her way to the surface before being reunited with Ms Graham.
"I just stuck my head out and kept pulling myself up with everything I could," she said.
But the mountain nightmare did not end there, with the pair repeatedly finding themselves lost amid the snow-covered rubble – all that remained of the devastated village. She survived with minor injuries but frost bite and a sore back have made it difficult to walk.