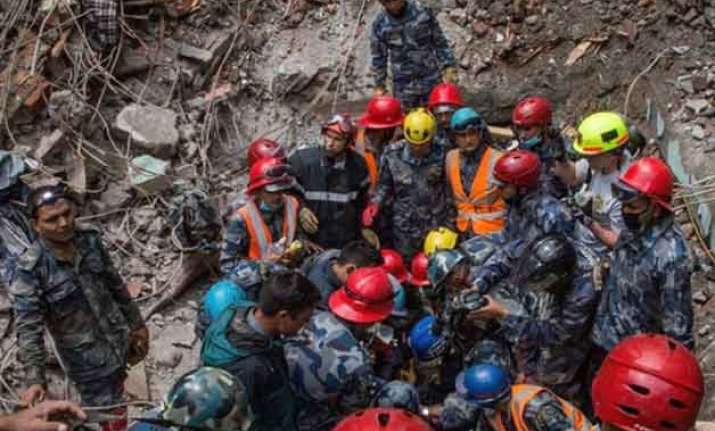 Kathmandu: Furious over the race among the foreign rescue teams to take credit for relief operations, Nepalese Army wants them all to be sent back.  
According to a report published in Navbharat Times, Nepalese Army has informed the government that the army is capable of completing the task and that all the foreign teams should be asked to go back.
Apart from Nepal Army, some 15 countries have sent rescue teams to the Himalayan nation along with relief material. India, China, Pakistan, Bangladesh, Korea, Sri Lanka and Japan are among the few countries which have sent teams and material for relief and rescue operations following the April 25 earthquake of 7.9 magnitude.
According to the NBT report, Nepal Home Ministry has confirmed that the army wants that the rescue teams to be sent back to their respective countries and a high level meeting is on the plate to discuss the same.
Although Nepalese Army has led from the front in the operation, with soldiers risking their lives amid strong aftershock, the world media has largely focused on the efforts of their respective countries. This has led to undervaluation of the hard work done by the army and has also affected coordination.
According to reports in Nepalese media, the army thinks that Indian Army is heavily publicising its efforts. Following the objection, Indian Army has stopped taking media along on the air rescue operations.

Disaster Management Wing of Nepal Army has written to Home Ministry that is it highly improbable that the people trapped under the rubble are still alive.
So far, disaster has claimed more that 6000 lives. Nepal Army Chief General Gaurav Rana yesterday said that the death toll could cross 15,000-mark.
The rescue teams have mostly concentrated in and around capital Kathmandu which has caused anger among the people in distant districts. Yesterday, a truck carrying relief material was looted in Sindhupalchowk, one of the worst hit areas in the country.