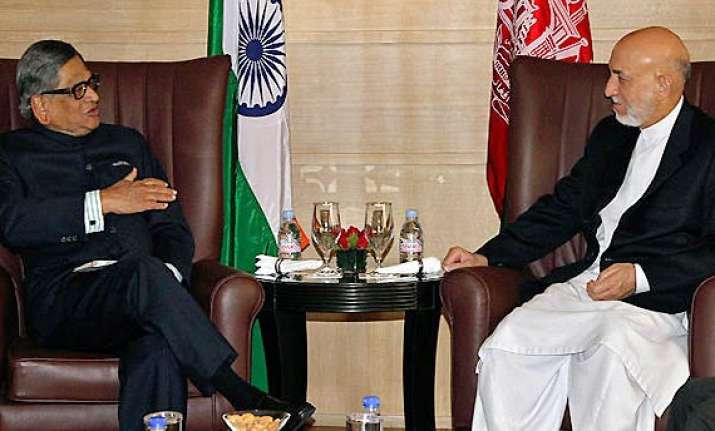 Bonn, Dec 5: External Affairs Minister S M Krishna today met Afghanistan President Hamid Karzai here and discussed the peace process in that country and implementation of India's aid programme to Kabul.

Krishna met Karzai on the sideline of an international conference on Afghanistan here being attended by leaders of over 100 countries.

Addressing the conference, Krishna, in a veiled reference to Pakistan, said terrorism emanating from outside Afghan borders posed potent threat to Afghanistan and warned the war-torn country could "slip back" by interference in its internal affairs.

Krishna underlined India's pledge to support Afghanistan's development and said the global community's commitment to ensuring its stability and security should not end after international forces leave that nation in 2014.

India has pledged two billion dollars for Afghanistan's economic reconstruction.

The Bonn conference is being boycotted by Pakistan protesting NATO troops stationed in Afghanistan that killed 24 Pakistani soldiers but attended by world leaders including US Secretary of State Hillary Clinton and British Foreign Minister William Hague.