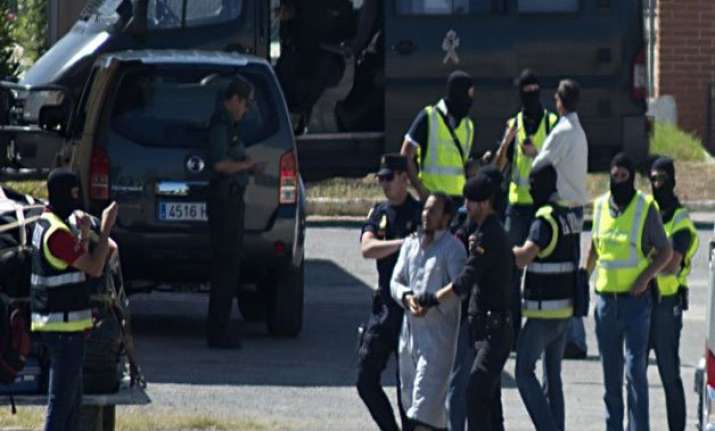 Madrid: Two people have been arrested in a Spanish enclave as security forces dismantled a jihadi cell, according to media reports.
The Spanish interior ministry revealed that rather than being a group dedicated to recruiting for the Islamic State (IS), this was a "cell that was fully prepared and ready to carry out an attack on Spanish territory", according to a Xinhua report on Tuesday.
It is believed that the two suspects arrested in the Spanish enclave of Ceuta on Tuesday intended to carry out-- "lone wolf"-- style attacks, in which the perpetrator of a violent crime acts in support of a group or an ideology, but does so alone, outside of any command structure.
Authorities have confirmed that the two arrested terror suspects were of Spanish nationality, but of Moroccan origin.
The arrests are a continuation of an operation that began on January 24, leading to four arrests in Ceuta, in which police discovered an automatic pistol, combat clothes, knives, machetes, documents and vehicle licence plates.
The people detained in January and on Tuesday, were all active members of the cell, which carried out an "aggressive campaign of communication in forums and jihadist pages on the internet", and which was interested "both in the need to recruit new combatants to the conflict zone (in Syria and Iraq) and also in committing terrorist acts with wide repercussion ...especially in Europe, in support of the Islamic State (IS)".
Spain's Interior Minister, Jorge Fernandez Diaz confirmed in January that the four arrested terrorists were "radicalised, well-trained both physically and mentally and ...prepared to carry out an attack and 'go up in flames--.
Diaz also drew parallels with the attack on the office of the satirical magazine Charlie Hebdo in Paris in January, in which 12 people were killed. He had concluded that it was probable that those arrested in Spain were planning acts of a similar nature.
In one of the worst terrorist attacks on Spanish soil, nearly 200 people were killed and around 2,000 injured in March 2004 when bombs exploded aboard four trains in Madrid. The attacks were believed to have been perpetrated by the Al Qaeda