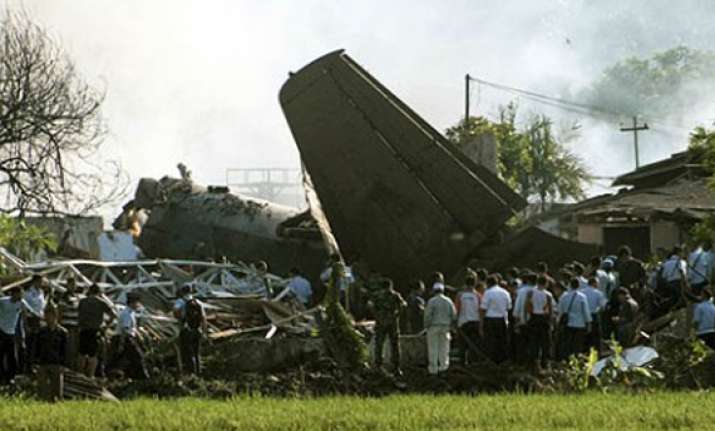 Jakarta, Jun 21: An Indonesian air force plane today crashed into a military housing complex in Jakarta, killing all seven crew on board and two children and an elderly woman on the ground, officials said.
The ageing turboprop Fokker 27 split in two as it smashed into the military airport compound while on routine training, igniting a blaze that ripped through homes and sent thick smoke into the sky.
An AFP correspondent saw dozens of firefighters battling the blaze at the Halim Perdanakusuma compound, and what appeared to be the plane's wing sticking out from the roof of a house.
"All seven crew and three people on the ground were killed," air force spokesman Colonel Agung Sasongko Jati told reporters. "The plane has split into two." The three who died on the ground were two cousins, aged two and six, and an elderly woman, Jati told AFP, adding the six-year-old's mother was in critical condition. There were no immediate reports of other victims.  
Indonesia, a sprawling archipelago, relies heavily on air transport but has one of the world's poorest aviation safety records, and military plane crashes are relatively common.  In early May, a Russian Sukhoi jet crashed into a dormant volcano in Java when it was on a promotional demonstration, killing all 45 aboard.
Thursday's crash happened at 2:45 pm (0745 GMT), after the plane took off from Halim at around 1:10 pm.  Mukhlis, 42, was at home in the complex and said she heard the plane flying low seconds before it crashed 700 metres from her home.