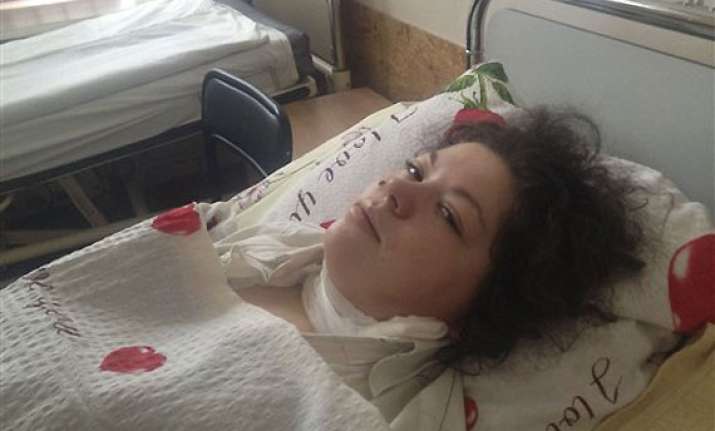 Kiev:  "I am dying," Olesya Zhukovska, a 21-year-old volunteer medic, wrote on Twitter, minutes after she got shot in the neck by a sniper's bullet as deadly clashes broke out in the center of the Ukrainian capital between protesters and police.
The tweet, accompanied by a photo of her clutching her bleeding neck and being led away under fire, went viral, as social media users around the world presumed she had died and shared their grief and anger.
But Zhukovska survived.
She has become a symbol of the three-month protest of President Viktor Yanukovych's government and a movement for closer ties with the West and human rights.
"We stand for freedom, for our rights, for social independence, for democracy, for freedom of speech, for everything, for a normal life," she told The Associated Press from her hospital bed in Kiev.
Zhukovska was injured Thursday morning, when government snipers began firing at protesters on Independence Square, known as Maidan, a bastion of the demonstrations that began in November to protest Yanukovych's decision to freeze ties with the European Union and seek financial aid from Russia.
Scores were killed and hundreds injured in clashes this week in the deadliest violence Ukraine has seen in modern history. In the course of the protests, police have deliberately targeted journalists wearing press identification and medics labeled with white crosses, prompting an international outcry.