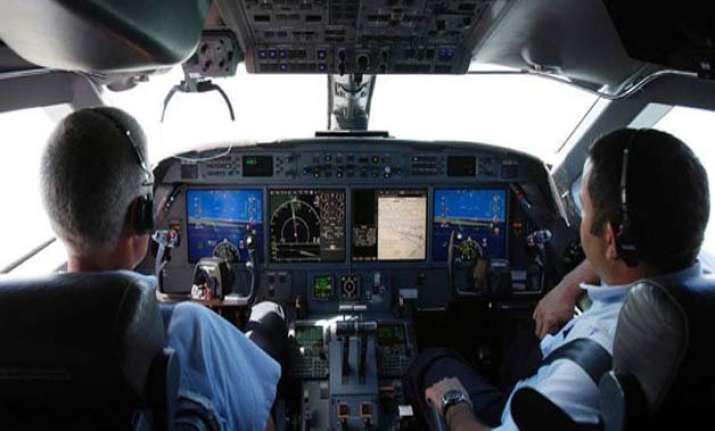 New Delhi: Days after the German flight Airbus A-320 crashed in French Alps, investigators have found that the plane was crashed deliberately by the co-pilot who locked the cockpit door.
Marseille prosecutor Brice Robin says pounding could be heard on the door during the final minutes as alarms sounded. He said the co-pilot "voluntarily" refused to open the door, and his breathing was normal throughout the final minutes of the flight.
Germanwings is a low-cost airline wholly owned by the largest airline in Europe called Lufthansa. The main question here is that what would have happened inside the plane that this situation was arised.
Cockpit doors are now stronger to prevent terrorists gaining access. Especially after the 9/11 incident, US Federal Aviation Authority demanded that doors should typically be tough enough to withstand a grenade blast. They are usually left locked throughout the flight.
Locking system means that the door cannot be entered unless the pilot inside allows someone to enter. Cockpit security systems are supposed to allow a pilot the ability to access the cockpit. But access can be deliberately denied from within the cockpit.
Cockpit doors of an Airbus usually have have three modes that are operated from the pilots' seats: unlock, normal, lock.
There is a touchpad that will allow cabin crew who know the code to enter. The crew has to enter the code and gain access to the cockpit.
In "normal" mode the cockpit is locked but can be accessed - after a 30-second delay - by touchpad should the cabin crew get no response from inside.
"Unlocked" mode is what a pilot would use to open the door for a colleague returning from the toilet.
The locking mechanism ignores the touchpad entry code and remains locked for five minutes (it can be repeated). It's easy to see how this would be used to prevent hijackers who have managed to get hold of the code from cabin crew from entering the cockpit.
Some planes may have a screen to tell the pilots who is outside the cockpit door.
If a pilot is unable to access the cockpit, it suggests that his colleague has denied entry.
Usually a flight attendant always goes into the cockpit whenever a pilot takes a break.
As per the rules established by German aviation safety authority, the Luftfahrt Bundesamt, when there are two crew members; one can leave the cockpit - but only for the fixed minimum time.
Other airlines have a "rule of two", where if a pilot leaves the cockpit for any length of time, another crew member must replace them. However, this is not the case with Lufthansa or other major airlines.
The pilot had been with the airline group for 10 years and has more than 6,000 flying hours. The co-pilot joined the airline in 2013 and had 650 flying hours.