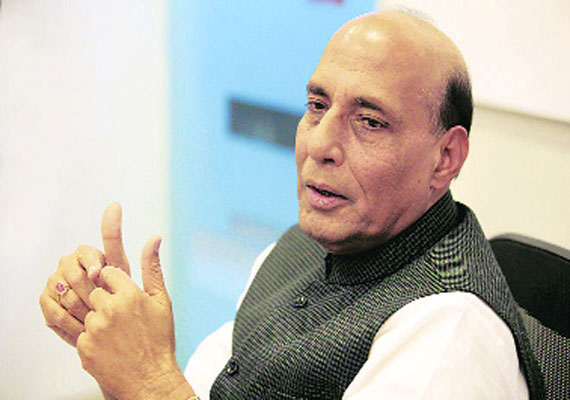 Washington, July 25: Days after asserting that he wil appeal to the US government to lift its ban on giving visa to Narendra Modi, BJP President Rajnath Singh yesterday said he has not raised the issue with the Obama Administration since it is upto Washington to take a call on it.
"The Modi visa issue is that of the US Administration. This is not an issue for us," Singh said in an interaction with Indian journalists.
However, he said there "is a paradox" given that the Congressional Research Service appreciates the performance of Modi, and at the same time the US government does not issue visa to Modi.
Singh said that he personally did not raise this issue with anyone during his meetings with US lawmakers, think tanks and experts while in Washington, but this was brought to his notice by some of the people who he met. He refrained from naming them.
"This is not our issue. This is an issue for the US Administration," Singh repeatedly said in response to several questions from the media on the issue.
His remarks came amidst a raging controversy back home with BJP and Congress accusing each other of seeking US intervention and lowering India's prestige.
BJP slammed the Congress over the purported letter to President Barack Obama by 65 MPs, asking the US administration not to grant visa to Modi.
On its part Congress hit back at the BJP accusing it of "begging" for Modi's US visa. Responding to a flurry of questions on Modi, Singh said the Gujarat Chief Minister has never spoken with him on the visa issue.
Asked who would be BJP's Prime Ministerial candidate, Singh, who had described Modi as the party's "most popular and tallest" leader, refused to name the contenders for the top post.
Singh said a decision has not been taken, nor there is a problem on this issue within the BJP. "But no decision has been taken on it yet," he added.
Reflecting on the series of meetings he has had with top American lawmakers in the US so far, Singh said there is a desire on the part of the US to strengthen both the economic and strategic relationship with India.
During his meetings, Singh said he raised the provisions with regard to the issue of H-1B and L1 visas, in the comprehensive immigration bill, which he said would adversely impact Indian companies.
Singh said he conveyed India's concerns with them. PTI