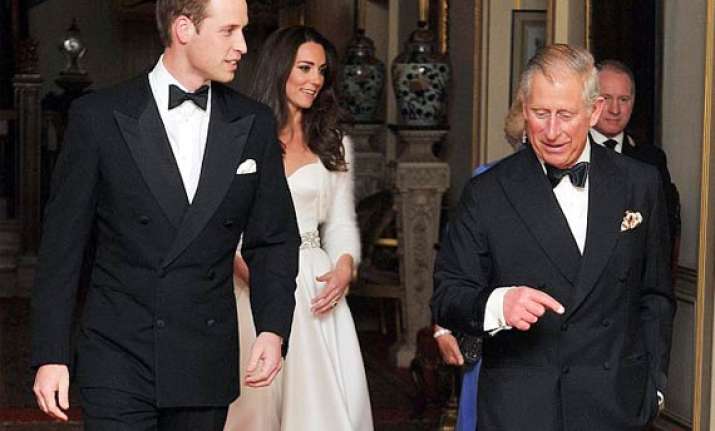 London, Apr 30: Calling Kate Middleton as the daughter he never had, an emotional Prince Charles raised a toast to the new bride, declaring "we are lucky to have her".

These were the words Charles used to portray his daughter-in-law Kate in a touching speech before a select 650 guests at the lavish champagne reception thrown by the Queen for the royal couple at Buckingham Palace.

Prince William married his longtime girlfriend Kate yesterday at a glittering ceremony at the Westminster Abbey.




Charles and late Princess Diana have two sons, William and Harry.

He wished the couple a long and happy life together. In between, Charles also found time to crack jokes about his eldest son and his famously thinning hairline, Daily Mail reported.

Kate's former primary school headmaster Robert Acheson, who attended the reception said, "William spoke very well but it was Charles who really gave high praise to his daughter-in-law. He said they were really lucky to have a daughter like her."

"I think Kate will be a wonderful role model, he added.

"The speech really brought a tear to the eye. She was a delightful child and is now a delightful young woman."




Susie Lea, a friend of the Middleton family, described the moment that Charles brought the house down. "The Prince of Wales made a few jokes about his bald patch and his son's bald patch, saying it must be hereditary," she said.

One attendee who said his son was a school friend of Prince William said: "Kate looked immaculate, she was beaming the whole time. It was a fantastic reception, everyone was very relaxed. William thanked everyone involved in the organisation of the wedding."

An astonishing 10,000 canapes were served during the two-hour reception, prepared by Buckingham Palace's 21-strong team of kitchen staff.

Guests toasted the happy couple with a 200 pound Pol Roger NV brut reserve champagne and a selection of other soft and alcoholic drinks. PTI