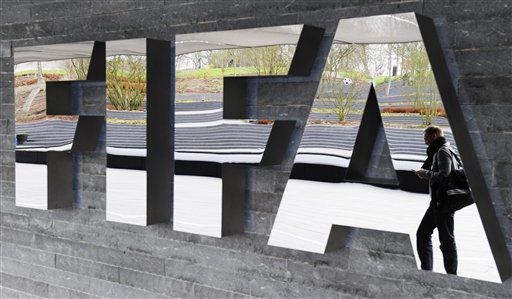 Zurich, Nov 30 :  Three days before the vote on the 2018 and 2022 World Cup hosts, FIFA was hit by further corruption allegations Monday when three senior officials were accused by European media of having received secret payments.
Executive committee members Ricardo Teixeira of Brazil, Nicolas Leoz of Paraguay and Issa Hayatou of Cameroon were named as having allegedly received payoffs from world football's former marketing agency.
The three long-standing members of FIFA's ruling panel received kickbacks from marketing agency ISL from 1989-99, the BBC and Swiss newspaper Tages-Anzeiger and Germany's Sueddeutsche Zeitung reported.
The three media outlets said they obtained a secret ISL document listing the names and payments.
ISL and its parent company ISMM went bust in May 2001, leaving debts estimated at $300 million and plunging FIFA into a financial crisis. The collapse triggered one of Switzerland's biggest criminal fraud cases.
The BBC, which was airing the allegations on its flagship documentary program "Panorama" on Monday night, said the three men did not respond to requests for comment about the allegations.
FIFA told The Associated Press it had no immediate comment on the reports.
The reports said Teixeira, who heads the Brazilian committee organizing the 2014 World Cup, received $9.5 million dollars.
Leoz, the South American football confederation president, reportedly got $600,000. The 82-year-old lawyer had previously been identified as receiving two kickbacks worth a total of $130,000 when six former ISL executives went on trial and were cleared of fraud charges in 2008.
African football leader Hayatou, who is also a member of the International Olympic Committee, allegedly received 100,000 French francs in 1995.
The BBC also made fresh allegations of wrongdoing against FIFA vice president Jack Warner of Trinidad and Tobago involving the sale of World Cup tickets. He was previously criticized by FIFA's ethics committee over his involvement in ticket-selling deals related to the 2006 tournament.
The BBC alleged that Warner tried to procure tickets for the 2010 World Cup in a scalping scam. It said the deal fell through when scalpers would not pay Warner's asking price.
The BBC pressed ahead with the investigation despite fears at home it would damage England's 2018 bid by alienating FIFA voters. Warner heads the CONCACAF regional body whose three votes are deemed to be crucial to England's campaign.
Teixeira, Hayatou, Leoz and Warner are scheduled to take part in FIFA's 22-man vote on Thursday to select the two World Cup hosts. The 2018 contest involves England, Russia and joint bids from Spain-Portugal and Netherlands-Belgium. The 2022 candidates are the United States, Qatar, South Korea, Japan and Australia.
The latest allegations came two weeks after two FIFA executive committee members were banned from the World Cup voting for ethics violations.
FIFA's ethics panel suspended Amos Adamu of Nigeria for three years after he was linked to bribe-taking in a British newspaper's undercover sting.
Oceania football president Reynald Temarii was cleared of corruption, but received a one-year ban for breaching FIFA confidentiality rules.
FIFA's ethics committee also investigated alleged vote-trading but did not find enough evidence to prove allegations that Spain-Portugal and Qatar had colluded.
In their 2008 trial, ISL executives said secret payments to officials, channeled through accounts in Liechtenstein, were essential to secure sports rights and marketing contracts. Such payments were then not illegal under Swiss law and the executives were acquitted of most charges.
After the verdicts in July 2008, prosecutors in the Swiss canton of Zug said a second trial was possible to examine if any FIFA officials received illegal payments from ISL/ISMM.
Prosecutors finally closed the file in June after the defendants repaid 5.5 million Swiss francs ($5.5 million) in damages.
"It is important to stress that no FIFA officials were accused of any criminal offense in these proceedings," Blatter was quoted by BBC as saying.
FIFA released a statement in June, stressing that Blatter had not been implicated.
"It is important to recall that the decision was made on matters which took place prior to the year 2000 and that there has been no court conviction against FIFA," the statement said. "In addition, the FIFA president has been cleared of any wrongdoing in this matter." AP