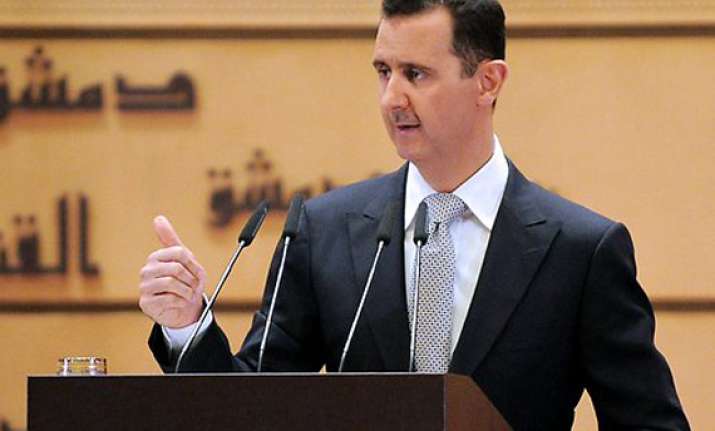 Istanbul, Jan 11: The opposition Syrian National Council branded today's keynote address by President Bashar al-Assad as an "incitement to violence" that pushes the country closer to a civil war.

"The head of the regime has given a dangerous speech in which he stated his determination to use violence against our own people and to regard the revolution as a terrorist plot," SNC leader Burhan Ghalioun told a news conference in Istanbul. 

"He has cut short any Arab or other initiative to find a solution to the crisis and avoid the worst," he said, adding the speech showed Assad's "determination to divide and push the country towards civil war."

Ghalioun called on the world community to "work to ensure the international protection of Syrian civilians as soon as possible," while urging the Arab League to turn to the UN Security Council for help.

In a televised speech lasting almost two hours, Assad blamed foreign plotters for 10 months of protests against his regime and said his government would tackle terrorism with an "iron fist".

Basma Qadmani of the SNC told the same Istanbul news conference that Assad's speech amounted to "incitement to violence" and "some talks about sectarian divisions which the regime itself has fomented and encouraged. 

"Our concern today is that such a speech is quite indicative of the total dismissal by the regime of the international community," Qadmani said in a statement. 

"And that is an indication that we are going in the direction of more irresponsible and more criminal behaviour by the regime in the coming days and weeks." Qadmani also said Assad's speech indicated that the regime "is breaking up with the Arab League," which has sent observers to Syria in a bid to try to halt the bloodshed that the UN says has killed over 5,000 people. 

"This is a turning point, a rupture with its Arab environment," she added in remarks. 

"The word democracy has hardly appeared in this discourse; we have seen much speech about reforms but we haven't heard of any progress at any level since 11 months and the beginning of the revolution."

Assad's speech came hours before the UN Security Council was due to discuss the bloodshed in the country. 

Qadmani called the UN to take action to stop killings. 

"Our next step therefore is to go in a speedy way to the Security Council with the support of the Arab countries which are now convinced that this regime has not cooperated during the (Arab League) mission and is quite unlikely to cooperate in any manner," she said.