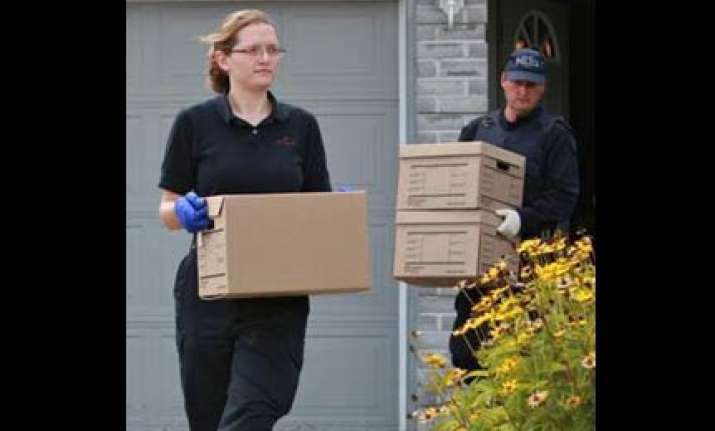 Toronto: The al-Qaeda linked module comprising three home-grown terrorists, including an India- born man, was only "months" away from carrying out a series of attacks in Canada, police said on Friday, as they traced the busted plot to Pakistan, Iran and Dubai. 
Three suspected terrorists have been arrested over the past two days, two in Ottawa and one in Ontario.  The three, Hiva Mohammad Alizadeh, 30, Misbahuddin Ahmed, 26, who was reportedly born in India and Khurram Syed Sher, 28, a Pakistani have been charged in connection with a plot to make and detonate improvised explosive devices as well as financing terror groups operating in Afghanistan.  All are being held in custody.  The members of the busted module were "months" away from exploding bombs on Canadian soil, a senior RCMP official was quoted as saying by Toronto Star.
The arrests follow a year-long investigation and have stopped an imminent threat to targets not only in Ottawa but possibly across the country, said Chief Superintendent Serge Therriault, the Royal Canadian Mounted Police (RCMP) chief of criminal operations in Ottawa.
Police refused to identify the targets of the alleged terrorists, saying that information would come out in court.
Police allege that since February 2008, the three men conspired with three others   James Lara, Rizgar Alizadeh and Zakaria Mamosta   in a terrorist plot they have traced back to Iran, Pakistan and Dubai, the 'Toronto Star' reported.
Therriault said police seized more than 50 electronic circuit boards that could be used to produce improvised explosive devices, or IEDs   the same lethal bombs involved in the majority of deaths and injuries of Canadian soldiers in Afghanistan.
'This group posed a real and serious threat to the citizens of the national capital region and Canada's national security," Therriault said.
 Alizadeh alone faces charges of making or possessing explosive devices for terrorist purposes and terrorist financing. Police allege he is an active member of an unnamed terrorist group, with which he remains in close contact.
"Part of the decision to make the arrests at this time was to prevent the suspect from providing financial support to terrorist counterparts for the purchase of weapons which would in turn be used against coalition forces and our troops (in Afghanistan)," Therriault said.
Two of the men appeared in a small courtroom yesterday in Ottawa. Alizadeh and Ahmed were put over for a video appearance on September 1.  Robert Farrell, a former Canadian diplomat who had rented his house to Ahmed, was quoted as saying that Ahmed was born in India, but had lived for a time in Saudi Arabia. PTI