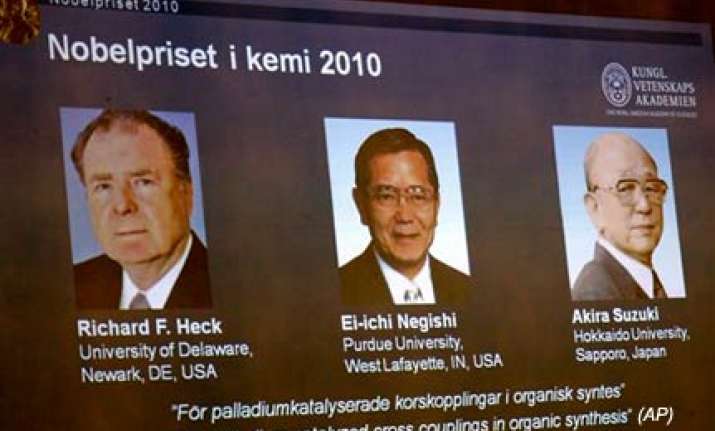 Stockholm, Oct 6: American Richard Heck and Japanese researchers Ei-ichi Negishi and Akira Suzuki won the 2010 Nobel Prize in chemistry today for developing a chemical method that has allowed scientists to test cancer drugs and make thinner computer screens.
The Royal Swedish Academy of Sciences said the award honours their development of palladium-catalysed cross couplings in organic systems.
The academy called that one of the most sophisticated tools available to chemists today, and one that is used by researchers worldwide and in commercial production of pharmaceuticals and molecules used to make electronics.
Heck, 79, is a professor emeritus at the University of Delaware. Negishi, 75, is a chemistry professor at Purdue University in West Lafayette, Indiana, and 80-year-old Suzuki is a professor at Hokkaido University in Sapporo, Japan.
Negishi told reporters in Stockholm by telephone that he was asleep when the call came.
"I went to bed last night well past midnight so I was sleeping but I am extremely happy to receive the telephone call," he said.
Officials at Hokkaido University were delighted by the news, said university spokesman Hidetoshi Nakatsuka.
"Professor Suzuki has been mentioned as a candidate in the past few years and we've been waiting for this to happen for all these years," Nakatsuka said. "We were standing by and we are extremely delighted."
Japanese Prime Minister Naoto Kan said he spoke to Suzuki on the phone and congratulated him. "He told me that Japan's science and technology is at the world's top level and encouraged me to make good use of the resources," Kan said.
The method developed by the Nobel winners has been used to artificially produce cancer-killing substances first found in marine sponges, the academy said in its citation. While clinical testing has started, it's not yet clear whether they will turn out to be useful drugs.
The electronics industry has used palladium-catalysed cross coupling to make light-emitting diods used in the production of extremely thin monitors, the academy said.
The 2010 Nobel Prize announcements began on Monday with the medicine award going to 85-year-old British professor Robert Edwards for fertility research that led to the first test tube baby.
Russian-born Andre Geim, 51, and Konstantin Novoselov, 36, of the University of Manchester in England won the physics prize yesterday for groundbreaking experiments with graphene, an ultrathin and superstrong material that scientists say should be a versatile building block for faster computers, transparent touch screens and lighter airplanes. AP