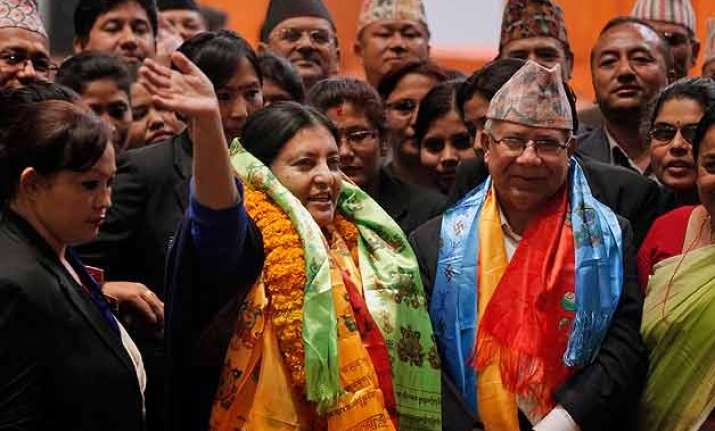 New Delhi: Communist leader Vidya Devi Bhandari was today elected as Nepal's first woman President by the parliament, weeks after it adopted a new landmark Constitution that declared the country a secular state.
54-year-old Bhandari, the Vice-president of CPN-UML and widow of late general secretary of the party Madan Bhandari, secured 327 votes against 214 votes of her rival veteran Nepali Congress leader Kul Bahadur Gurung.
1) She succeeds incumbent Ram Baran Yadav who was elected as the country's first President in 2008 after Nepal was declared a Republic following the abolition of a 240-year-old monarchy.   With the promulgation of the Constitution on September 20, it was required to elect a new President within a month of the commencement of the Parliament session.  
2) Bhandari began her political career with a leftist student movement in 1979. She then acquired membership of CPN (ML), went underground and fought against the party-less Panchayat system from Morang district.
3) She married the famed Communist leader Madan Kumar Bhandari. After the end of Panchayat system and restoration of multi-party democracy in 1990, CPN (ML) became CPN (UML) after unification with CPN (Marxist) and her husband became General Secretary of the unified party.
4) Madan's mysterious death in a jeep accident in 1993 led to her second inning in politics. She contested against former prime minister Krishna Prasad Bhattarai and defeated him.  
5) Bhandari served as a Member of the Parliament for a year.  She won two subsequent parliamentary elections in 1994 and 1999. She was also a member of the Interim Parliament formed after the 2006 Janaandolan II.
6) She had served as the country's first woman Defence Minister in the Madhav Kumar Nepal-led government from May 25, 2009 until February 6, 2011.
7) Earlier in 1990s, she was appointed the Minister for Environment and Population.  She has been leading the party's sister organisation, All Nepal Women Association, for nearly two decades.  
8) She was elected Vice-Chairperson of the party from its eighth and ninth conventions in February 2009 and July 2014 respectively. She was a Central Committee member of the party since its sixth national convention in January 1998.  
9) Bhandari, the mother of two daughters, has long campaigned for women's rights and was among the politicians who campaigned for ensuring women's rights in the new constitution adopted last month.
10) The constitution says women need to be included in all government committees and assemblies including parliament and state assemblies.