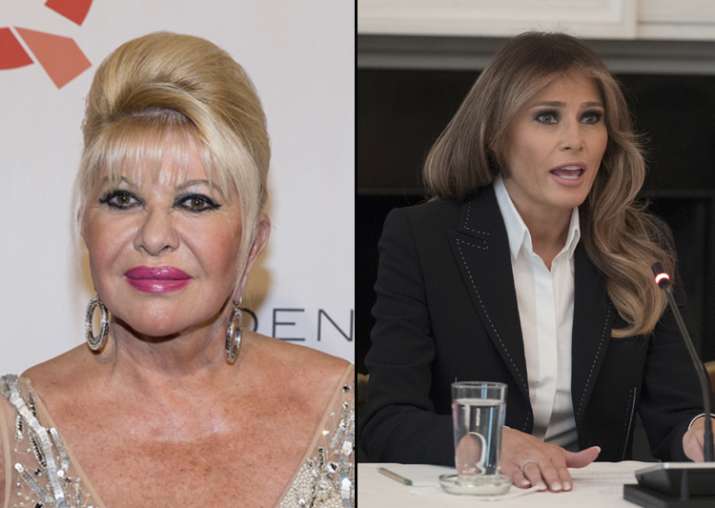 Donald Trump's first wife Ivana claimed last week that she was the "first lady" because of her status as the President's first wife. Ivana, in a TV interview ahead of the release of her memoir, "Raising Trump", said she was "basically first Trump wife, I'm first lady".
Donald Trump's current wife Melania retorted with a statement of her own, slamming Ivana as "attention-seeking and self-serving noise".
Stephanie Grisham, spokeswoman for Melania, said in a statement that the current wife of the President has made a home him and their son Barron at the White House.
"She loves living in Washington, DC and is honoured by her role as First Lady of the United States," Grisham said. "She plans to use her title and role to help children, not sell books. There is clearly no substance to this statement from an ex. Unfortunately only attention seeking and self-serving noise."
During an interview with ABC's "Good Morning America" on Monday, Ivana boasted of having a direct line to the White House which she uses to talk to the President about once every 14 days. She added that she doesn't use the direct line to the White House because Melania Trump is there.
"I have the direct number to White House but I don't really want to call him there because Melania is there and I don't really want to cause any kind of jealousy or something like that because I'm basically first Trump wife, OK? I'm first lady, OK?" she told ABC, laughing.
Ivana, a Czech-American businesswoman, and Donald Trump divorced in 1992 after 15 years following his tabloid affair with TV personality Marla Maples. 
Trump's public affair with Maples spawned the infamous "Best Sex I've Ever Had" headline in the New York Post in 1990. After divorcing his first wife, Trump married Maples in 1993.
She is the mother of the President's three eldest children, Donald Jr., Ivanka, and Eric, does not refer to Maples, by name in her book, which comes out Tuesday, only calling her "showgirl".
Ivana writes in "Raising Trump" that she knew her marriage was over soon after a day in December 1989.
"Donald during the divorce was brutal. He took the divorce as a business deal and he cannot lose, he has to win," Ivana Trump said during the ABC interview, adding that they were now "friends".
In the book, Ivana writes glowingly about her marriage to Trump and her prominent role at the Trump Organization.