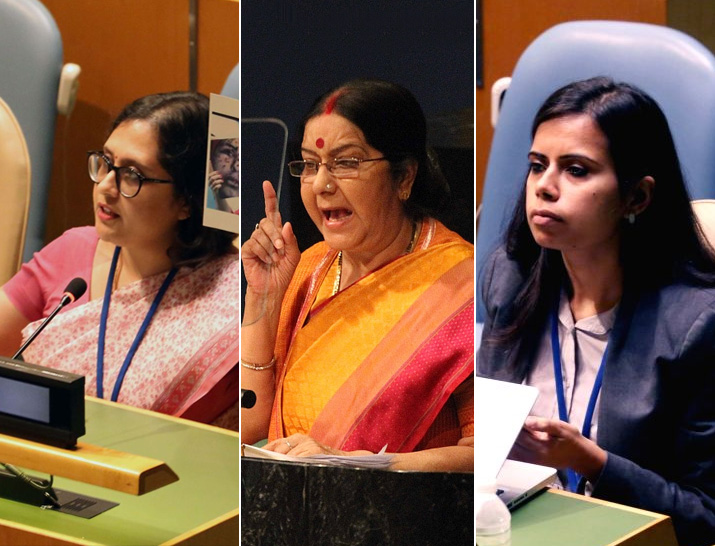 It has been a rather eventful week at the United Nations General Assembly for India and Pakistan. Speeches have been fiery and charges and counter-charges have flown thick and fast and so has a 'criminal' gaffe, courtesy Maleeha Lodhi, Pakistan's Permanent Representative to the United Nations.
The ante has been upped, be it in terms of Pakistan holding India responsible for atrocities against Kashmiris or India's aggression in branding Pakistan as 'Terroristan', the "hub of global terrorism".
The past week has seen fiery speeches from representatives from both sides – with Foreign Minister Sushma Swaraj, First Secretary in the Permanent Mission of India to the United Nations Eenam Gambhir and diplomat at the Permanent Mission of India to the United Nations Paulomi Tripathi holding the fort for India, and how!
The three ladies not only managed to put across India's concerns vis a viz terror emanating from Pakistan in perhaps the strongest possible words, they also demolished each claim by Pakistan at the global forum with 'surgical' precision. As much as Indians may like to believe that countering Pakistan's propaganda is a cakewalk, platforms such as the United Nations require countries to put across their points based on facts and not television studio rhetoric.
It is here that India's representatives at the highest global forum have succeeded, while Pakistan has erred and thus finds itself increasingly isolated globally. Needless to say, Pakistan has no place to hide after the week that has gone by.
A look through the sequence of events as they unfolded at the United Nations General Assembly puts this in better perspective:
September 21: Pakistan PM addresses UNGA, speech laden with anti-India rhetoric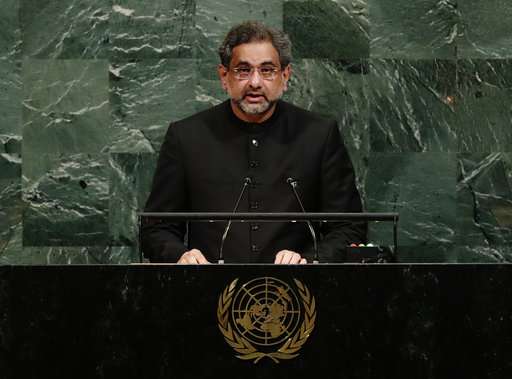 In his maiden address to the UN General Assembly, Pakistan's newly appointed Prime Minister Shahid Khaqan Abbasi accused India of indulging in terror activities against his country and warned of a "matching response" if it "ventures across the LoC (Line of Control)" or acts upon its doctrine of limited war against Pakistan.
"The Kashmir dispute should be resolved justly, peacefully and expeditiously. As India is unwilling to resume the peace process with Pakistan, we call on the Security Council to fulfil its obligation to secure the implementation of its own resolutions on Jammu and Kashmir," he said, urging the United Nations to appoint a special envoy to Kashmir, as he claimed that the struggle of the people in the region is being "brutally suppressed" by India.
He further said that despite over 600 ceasefire violations on the India-Pakistan border since January this year, Pakistan has acted with restraint. "But if India does venture across the LoC, or acts upon its doctrine of limited war against Pakistan, it will evoke a strong and matching response," he said in his speech in which he raised his anti-India rhetoric.
India refuses to implement the unanimous resolutions of the UN Security Council, which mandate a UN supervised plebiscite to enable the people of Jammu and Kashmir to freely decide their destiny," he said, accusing India of deploying "nearly 700,000 troops" in Kashmir to "suppress the legitimate struggle of the Kashmiris to exercise their right to self-determination".
This is the most intense foreign military occupation in recent history, Abbasi said. "Shotgun pellets have blinded and maimed thousands of Kashmiris including children. These and other brutalities clearly constitute war crimes and violate the Geneva Conventions," he charged.
However, he stated that Pakistan remains open to resuming a comprehensive dialogue with India to address all outstanding issues, especially Kashmir and discuss measures to maintain peace and security in the region, provided India accompanied it with an end to its "campaign of subversion and state sponsored terrorism against Pakistan".
September 21: 'Pakistan is Terroristan' – When Eenam Gambhir demolished Pakistan's 'terror victim' narrative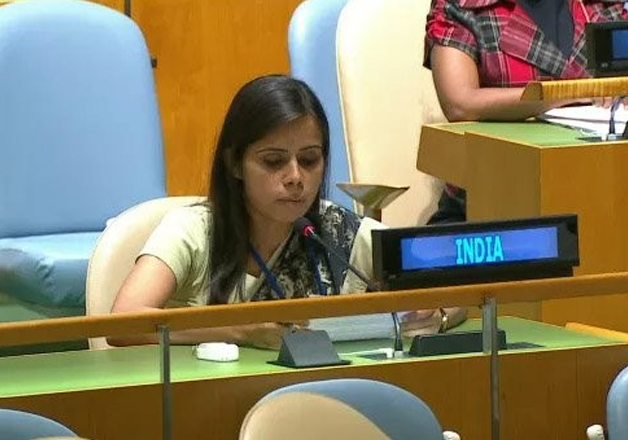 Pakistan is now "Terroristan" - the land of pure terror, India's Eenam Gambhir said in a terse rebuttal at the UN to Pakistani Prime Minister Abbasi urging the appointment of a special envoy to Kashmir while alleging that the "struggle of the people in the region is being brutally suppressed by India". Exercising its Right of Reply after Abbasi's loud-mouthed speech at the UN General Assembly, Gambhir said it was "extraordinary" that the state that sheltered Osama bin Laden was creating narratives based on deception and deceit.
"In its short history, Pakistan is a geography synonymous with terror. The quest for a land of pure has actually produced 'the land of pure terror'. Pakistan is now Terroristan with a flourishing industry producing and exporting global terrorism," Gambhir, India's First Secretary to the UN, said.
Demolishing Pakistan's attempts to paint itself as a victim of terror, India described Pakistan as a country whose counter-terrorism policy was to "mainstream and upstream terrorists" by either providing safe havens to terror leaders in its military town or protecting them with political careers.
The obvious reference was to Al Qaeda chief Osama bin Laden, who was found and killed by US forces in the Pakistan's Abbottabad, and terror mastermind Hafiz Saeed, who recently floated a political party and is planning to contest general elections in the country next year.
"Its current state can be gauged from the fact that Hafiz Mohammad Saeed, a leader of the UN designated terrorist organization Lashkar-e-Taiba, is now sought to be legitimized as a leader of a political party," Gambhir said.
Having annihilated Pakistan's narrative of being a terror victim, Gambhir then turned to Abbasi's references to Kashmir and the call for a 'dialogue' on the 'outstanding' issue. "In so far as India is concerned, Pakistan must understand that the state of Jammu and Kashmir is and will always remain an integral part of India. However much it scales up cross-border terrorism, it will never succeed in undermining India's territorial integrity," she said.
Gambhir also said Pakistan, after diverting billions of dollars in aid towards creating a dangerous infrastructure of terror, was the polluter paying the price. "Even as terrorists thrive in Pakistan and roam its streets with impunity, we have heard it lecture about human rights in India. The world does not need lessons on democracy and human rights from a country whose own situation is charitably described as a failed state," she said.
September 23: Sushma Swaraj addresses UNGA, says India made IITs, Pakistan made Lashkar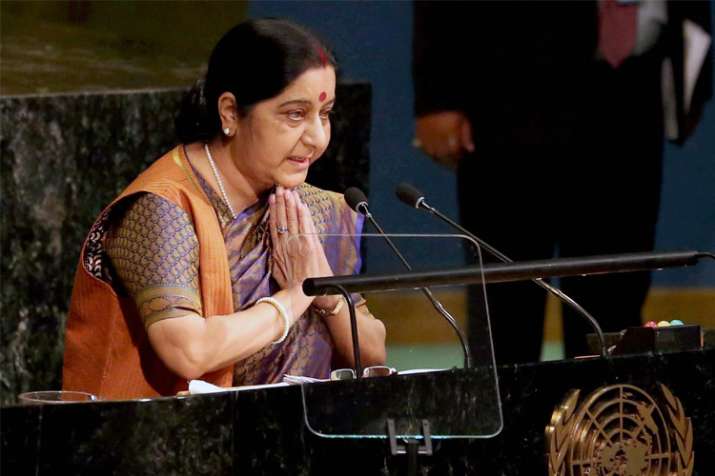 Sushma Swaraj displayed what Pakistan will perhaps remember as an epic takedown for a long time to come. The Foreign Minister dismissed Abbasi's accusations of violating human rights, telling the United Nations General Assembly, "Look who is talking".
"We are completely engaged in fighting poverty; alas our neighbour Pakistan seems only engaged in fighting us," Swaraj said in her hard-hitting speech. Swaraj advised Pakistani leaders to introspect, reminding them that though both countries became independent at the same time, India is globally known as an IT superpower, and Pakistan, "as the pre-eminent export factory for terror".
"We set up IITs, IIMs, AIIMS and ISRO. What did Pakistan make? They set up Lashkar-e-Taiba, Jaish-e-Mohammed, Haqqani Network, Hizbul Mujahiddeen," said Swaraj in her speech delivered in Hindi. Naming Pakistan PM twice in her 21-minute speech, Swaraj told the UN meet that a country that has been the world's greatest exporter of havoc, death and inhumanity had become a champion of hypocrisy by preaching about humanity.
"If Pakistan had spent on its development what it has spent on developing terror, both Pakistan and the world would be safer and better-off today," she said to a loud applause at the UNGA.
Complimenting Swaraj for delivering a "strong message" on the dangers of terrorism at the world meet, Prime Minister Narendra Modi described it an "incredible" and "insightful" speech. "She has made India extremely proud at the world stage," PM Modi tweeted.
Read full text of Sushma Swaraj's UNGA speech here
September 23: Maleeha Lodhi's criminal faux pas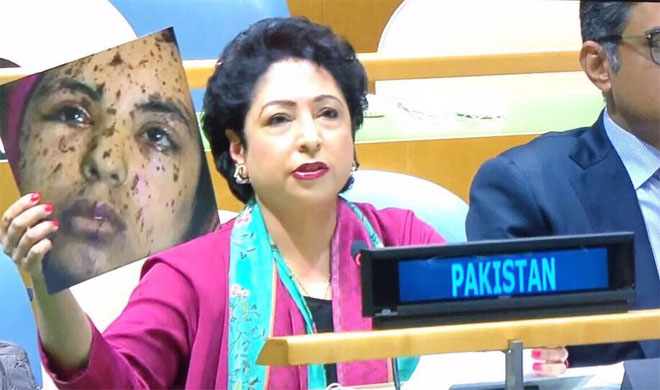 Rattled by Sushma Swaraj's hard-hitting speech, Pakistan then fielded one of its senior most officials in its diplomatic corps, Permanent Representative to the United Nations Maleeha Lodhi, to deliver a rejoinder. While the exercise of delivering rejoinders is usually consigned to junior diplomats, Pakistan thought it best to counter the Indian Foreign Minister with their best among the lot.
Sadly, she was far from it. Armed with an intent to 'expose' India and its wrongdoings in Kashmir and establish itself as the harbinger of the humanitarian cause, Lodhi's speech, as it eventually turned out, became nothing but laughing stock. Here is how and where she went wrong.
In a desperate dramatic act aimed at whipping up anti-India emotions, Pakistan's Maleeha Lodhi brandished a photograph of a young woman – her face scarred with scattered bruises -- at the United Nations as an example of "Indian brutality" in Kashmir. As it turned out, she had goofed up big time.
The photograph that Maleeha brandished with aplomb at the UN turns out to be that of a Palestine resident. The photograph was clicked in Gaza in 2014 by award winning photographer Heidi Levine. The girl -- Rawya Abu Joma, who was then 17 years old --had been injured during an Israeli airstrike, the original caption with the photograph said. The photo has been carried by many online photo galleries -- including New York Times and the Guardian.
The rest of her speech – of course she did not realise she had passed off an incorrect image to drive home her point – was aimed with the usual. Maleeha Lodhi used Islamabad's right of reply to claim India as the "mother of terrorism in South Asia, not (us)". She also called Swaraj's speech a "litany of falsehoods", only to back it up with one of her own.
September 26: After Pak goof-up, Indian diplomat Paulomi Tripathi displays 'true picture'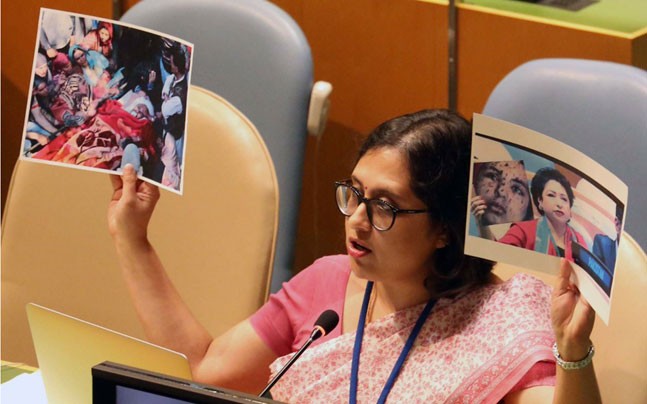 A day after the big goof-up by Pakistan's top diplomat at the UN, India fielded a young diplomat, Paulomi Tripathi, to put facts before the world as they are. Only this time, the picture was real, and so was the narrative.
The diplomat held up the picture of Lt Umar Faiyaz, a young Army officer from Jammu and Kashmir who was brutally killed by "Pakistan-supported terrorists" in May this year. She called it a "true picture" which portrays a "harsh and tragic reality" of India.
Calling Lodhi waving a picture of the Palestinian girl "a fake picture to push a completely false narrative", Paulomi Tripathi said that the Permanent Representative of Pakistan, in her statement, yet again sought to divert attention from Pakistan's role as the hub of global terrorism.
"She did so by callously holding up a picture of an injured girl. It was a photograph of Rawya abu Jom'a, a girl from Palestine. The picture was taken on 22 July 2014 by an American photographer Heidi Levine. This photograph was published by New York Times on 24 March 2015 under the caption 'Conflict, Courage and Healing in Gaza'. The Permanent Representative of Pakistan misled this Assembly by displaying this picture to spread falsehoods about India. A fake picture to push a completely false narrative," she said.
Tripathi, a First Secretary at the Permanent Mission of India at the UN, said that "in view of this cynical and misleading attempt by Pakistan, we are constrained to show this Assembly, a photograph that reflects the real picture of pain inflicted by the nefarious designs of Pakistan on India".
"This is a real and not a fake picture of Lt. Umar Faiyaz. A young officer from the Indian State of Jammu and Kashmir. Umar Faiyaz was kidnapped at a wedding celebration. He was brutally tortured and killed by Pakistan supported terrorists in May 2017," she said.
"This is a true picture. It portrays a harsh and tragic reality. A picture of terrorism emanating from across our borders that the people of India, especially in the state of Jammu and Kashmir have to struggle with, every day. This is the reality which the Permanent Representative of Pakistan sought to obfuscate," Tripathi said.
She concluded by saying that the "true face of Pakistan is not hidden from anyone".