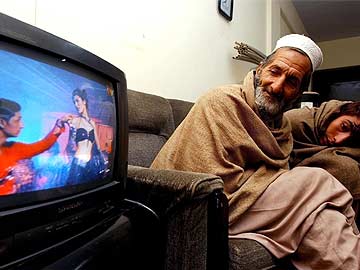 Pakistan's electronic media watchdog on Thursday warned of a crackdown on cable operators and DTH service providers for the excessive airing of foreign content and imposed a cap of less than 6 per cent of air-time to telecast Indian television channels. 
Officially, the move has been taken as Pakistani DTH service is set to be introduced in the coming months. However, one cant overlook the fact that the announcement comes just a day after India announced that the All India Radio will resume the airing of Baloch programmes on radio. 
Pakistan Electronic Media Regulatory Authority (PEMRA) maintains that the decision was prompted by complaints from the different TV owners and common citizens. 
"Adequate time is being given to the cable operators and satellite channels to adjust their timings as per the legal requirements. Otherwise, punitive action will be taken against the two important segments from October 15," the Dawn quoted PEMRA chairman Absar Alam as saying on Wednesday.
However, one can not rule out the extent to which Indian Prime Minister Narendra Modi's mention of Balochistan and his acknowledgement of the gratitude he received from the people of Balochistan for taking up their cause had riled Islamabad.
The Pakistani government, in repeated missives to the UN, has raised the human rights violations bogey in the Kashmir Valley to claim that Modi's mention of Balochistan is India's attempt at diverting international attention to what it terms as atrocities in Kashmir.
So, when PEMRA's Alam said that strict action will be taken against all those TV channels that have been continually violating the code of conduct, it wouldn't be wrong to assume that the move is a direct reaction to India needling Islamabad by airing Baloch programmes. 
"Only the TV channels having permission and license can telecast foreign content. Pakistani TV channels can utilise less than 6 per cent of air time to telecast Indian TV contents from October 15, 2016," Alam said. 
Handing a 45-day deadline to those showing Indian content illegally, he said that any violation will be punished after the deadline. 
PEMRA chief added that action against the dealers of Indian DTH would be launched with immediate effect.
"I urge the people to stop using illegal Indian dishes as it is in utter violation of the law and against the national interest," he said. 
He further said, "Around three million Indian DTH decoders are being sold in the country. We not only want this sale stopped but will also ask the relevant agencies to trace the money trail to determine the mode of payments made to Indian dealers selling these decoders to Pakistanis."
Alam said PEMRA would get help from other departments to check the violation of the law regarding using foreign TV contents. 
Indian films, dramas and reality shows are highly popular and keenly watched in Pakistan.