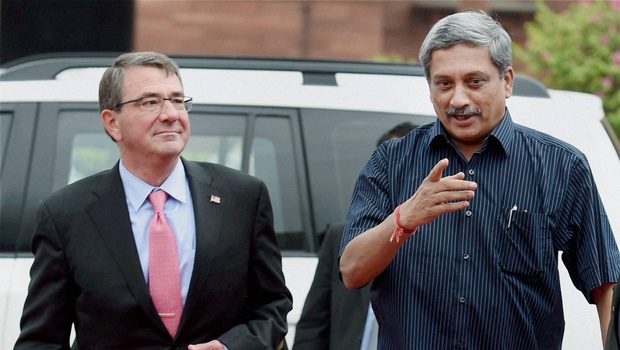 Indian Defence Minister Manohar Parrikar will be meeting his US counterpart Ashton Carter at the Pentagon on Monday.
This will be the sixth meeting between the two leaders which reflects the growing defence cooperation between India and US.
Ashton Carter had last met Parrikar during a visit to India in April.
The meeting is taking place after the United States designated India as major defence partner during PM Modi's Washington visit in June this year.
The Pentagon on Friday said Carter will host an enhanced honour cordon to welcome Parrikar to the US Defence Department headquarters.
Following the arrival ceremony there will be a wreath laying ceremony at the Pentagon 9/11 Memorial.
After the ceremony, there will be a bilateral meeting followed by a joint press conference at the Pentagon, a statement from Pentagon said.
The India-US Defence partnership has been the most ambitious one over the past several years, a senior State Department official told a group of South Asian reporters on Friday.
"During the Prime Minister's last visit we were able to announce that the logistic agreements have been finalised, so we look forward to being able to sign that in the near future whether or not if that is going to be part of ministers visit or not," the official said.
"We are certainly welcoming and hopeful for continuing to move forward on that and continuing to move forward on the fact that we have designated India as a major defence partner into and continue to progress in that direction," the official added.
(With PTI inputs)