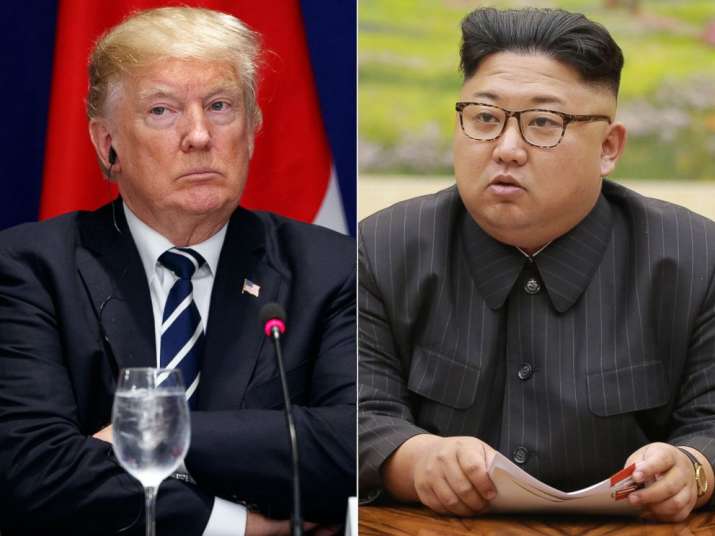 The countdown has begun for perhaps the most pathbreaking event that can define a series of events in the future. Donald Trump and Kim Jong-Un who have engaged in a series of verbal taunts over the past one year have agreed to hold talks in Singapore on June 12. Hopes are high as the two leaders prepare for the historic talks- a first between a sitting US president and a North Korean leader. But as the saying goes, 'Rome was not built in a day', the preparations for the summit did not happen overnight. Here is a flashback of the nearly 18-month diplomatic roller-coaster that has set the tone for talks between the mercurial leaders.
1. Trump sets the tone, trade tirades with North Korea
On January 2, 2017, weeks before assuming office, the then president-elect Donald Trump vows that North Korea will never be allowed to develop a nuclear weapon capable of reaching the US territory.
However, early in his presidency, Trump sends out conflicting signals. In separate statements released in April 2017, he described Kim as both a 'madman with nuclear weapons' and a 'pretty smart cookie' for managing to hold on to power at a very young age.
2. Stand-off escalates, 'madman strikes'
Six months into Trump's presidency, in July 2017, Kim Jong-Un conducts two intercontinental ballistic missile tests and declares the entire United States to be within North Korea's range.
The following month, Trump threatens 'fire and fury' if North Korea continues to threaten the United States- the beginning of many of the high voltage psychological conflicts that kept the entire world on the edge.
However, Pyongyang had the perfect reply to Trump's threats. Weeks later it test-fired a ballistic missile over Japan and on September 3, 2017, it carried out its sixth nuclear test of a hydrogen bomb it claimed can be mounted on a missile.
Tired of the talking, the US President warns that 'talking is not the answer' to its standoff with Pyongyang.
3. Sabre Rattling continues
On September 21, 2017, Washington unveils a list of tough sanctions to curb Pyongyang's nuclear and ballistic missile ambitions.
The announcement came two days after Trump's maiden speech to the UN General Assembly, in which he describes Kim a 'Rocket Man' on a 'suicide mission' and warns that if threatened, the United States will have no choice but to 'totally destroy North Korea'.
In response, Kim brands Trump as 'mentally deranged' and a 'dotard' sending a clear warning that he will pay heavily for his threats.
After a new inter-continental ballistic missile test from Pyongyang in November, Trump derides Kim as a 'sick puppy'. Towards the close of 2017, Kim boasts that his missile arsenal can hit any city on the US mainland. In a warning during the New Year address, Kim said that he has a 'nuclear button' on his desk.
Three days later, Trump retorts that his own nuclear button is 'much bigger and powerful'.
North Korea brands his outburst as the 'bark of a  rabid dog'.
4. Seoul Winter Olympics-beginning of peace talks
Following a year of harsh rhetorics, South Korea's hosting of the Winter Olympics in February 2018 gives the two neighbours who have been in war for more than 50 years, a window to reopen communications, ushering in a spectacular Korean detente. History was being made at the Seoul Olympics as the two Koreas marched together for the opening ceremony. South Korean President Moon Joon Jae-in shared historic handshakes with Kim's sister Kim Yo Jong. Trump's daughter Ivanka Trump also shared the dais with top officials from both sides.
On February 23, Washington slapped Pyongyang with its largest ever set of sanctions, a move North Korea called an 'act of war'.
The Seoul Olympics also paved the way for the historic inter-Korean summit which saw the two Korean leaders pledging to pursue the denuclearisation of the Korean peninsula.
5. The Inter-Korean Summit
The Inter-Korean summit held on April 27 at the Panmunjom Village in the Demilitarised Zone (DMZ) was, in fact, the icebreaker to the upcoming Trump-Kim summit. Their decision to seek complete denuclearisation of the Korean peninsula won praise from all major world leaders. Trump hailed the summit as a historic meeting after a furious year of missile launches and nuclear testing. 
6. Preparations begin
In the month of April, Trump's CIA chief and then-nominee for the secretary of state, Mike Pompeo travelled secretly to Pyongyang where he met Kim to lay the groundwork for the landmark summit. A month later, Pompeo makes a second unannounced trip aimed at finalising the summit details and pressing for the release of three US citizens detained by North Korea.
And finally on May 10, after weeks of suspense, Trump revealed the details of the date and venue of his historic summit with Kim Jong-Un, vowing to make it a very 'special moment for World Peace".