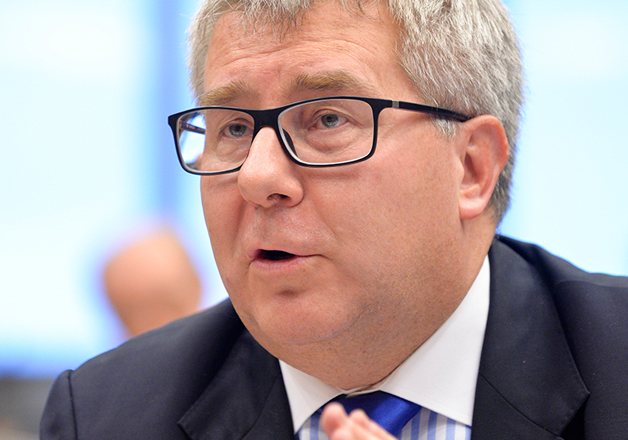 The world seems to be rallying behind India's call to isolate Pakistan with the European Parliament mulling to impose economic and political sanctions on Islamabad if it fails to stop atrocities on people living in Balochistan.
According to reports, Ryszard Czarnecki, the vice president of the European Parliament, has accused Pakistan of violently crushing the voice of dissents and indulging in human rights violation in the region.
While paying tribute to those killed by Pakistani forces in Balochistan, Czarnecki said that the House may consider imposing economic and political sanctions on the southeast Asian nation if it fails to stop its atrocities.
The reaction hold significance as it comes in the backdrop of protest held by several Baloch and Indian activists outside the UN headquarters on Wednesday while Pakistan Prime Minister Nawaz Sharif addressed the UN General Assembly.
The activists shouted slogans of 'Free Balochistan', 'Down Down Pakistan', 'Save World from Pakistan Terror' as they waved banners and placards that read 'US Government stop giving funds to Pakistan', 'Kashmiri Hindus are Humans, Wake up to their sufferings', 'Remove Pakistan from the UN', 'Stop Atrocities in Pakistan-occupied Kashmir' and 'Killing Fields of Pakistan - Sindh and Balochistan'.
Countries like US, UK, France, Russia, Germany have already raised concerns over growing atrocities against locals by Pakistani forces in Balochistan, located in the southwestern region of the country. 
Ever since PM Narendra Modi highlighted the human rights violations in Balochistan during his Independence Day speech, several Baloch leaders living in exile have aggressively advocated for freedom of the restive region from the clutches of Pakistan.
Baloch nationalist leader Brahumdagh Bugti, who is the president of Baloch Republican Party (BRP) that is seeking independence for the troubled Pakistani province, has applied for asylum in India.
Prime Minister Narendra Modi had raised the issue of Balochistan during his speech on Independence Day this year. 
"Today, I want to especially honour and thank some people from the ramparts of the Red Fort. For the past few days, the people of Balochistan, people of Gilgit, people of Pakistan-occupied Kashmir, the way their citizens have heartily thanked me, the way they have acknowledged me, the goodwill they have shown towards me, people settled far across, the land which I have not seen, people I have not met ever, but people settled far across acknowledge the Prime Minister of India, they honour him, so it is an honour of my 125 crore countrymen, it is respect of my 125 crore countrymen, and that is why, owing to the feeling of this honour, I want to heartily thank the people of Balochistan, people of Gilgit, people of Pakistan-occupied Kashmir for having an expression of thankfulness," he had said