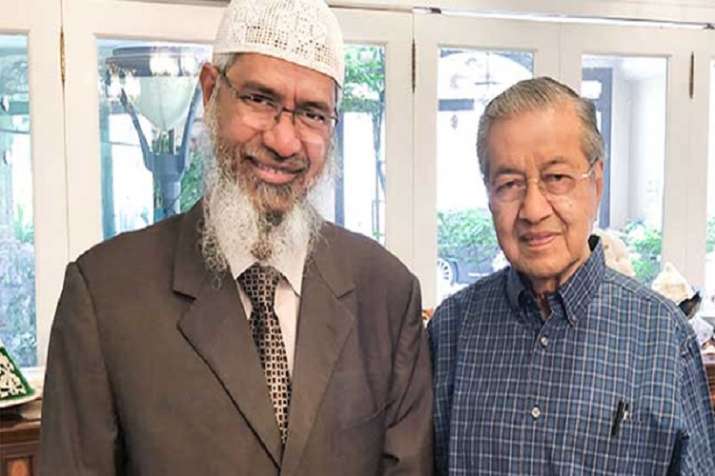 Controversial Islamic preacher Zakir Naik, who is wanted by Indian probe agencies for allegedly fuelling religious hatred through his speeches, met Malaysian Prime Minister Mahathir Mohamad on Saturday. Naik's legal team on Sunday has released a photo of the meeting.
The meeting came a day after the Malaysian Prime Minister said that Naik will not be deported to India. Mohamad said the Islamic preacher would not be sent back as long as he was not creating any problem in the country.
"As long as he is not creating any problem, we will not deport him because he has been given permanent residency status," said Prime Minister Mahathir.
Zakir, who is the founder of the Islamic Research Foundation (IRF), left India in 2016 for Malaysia, where he was granted permanent residency. He is wanted in India for allegedly funding terror-related activities and giving hate speeches.
Meanwhile, a strategist of Malaysia's ruling Parti Pribumi Bersatu Malaysia (PPBM) has defended Prime Minister Mahathir's decision not to deport Naik to India, saying doing so would be akin to deporting Uighur Muslims to China. 
PPBM strategist Rais Hussin said he personally could see no wrong in Naik's activities and speeches. Deporting him would be akin to deporting Uighur Muslims to China, he said, referring to China pressing Malaysia for the extradition of 11 Uighur men who entered Malaysia illegally last year after their dramatic escape from a jail in Thailand last year. 
India has made a formal request for the extradition of Naik. India's Ministry of External Affairs said Thursday the country's request is under 'active consideration'.
MoS Home Hansraj Ahir responded to the Malaysian PM's statement saying Naik will not be spared. He told ANI, "Maybe not now but eventually he will be arrested and brought to justice, he will not be spared."
Earlier this week, Naik denied reports that he was returning to India, calling them "totally baseless and false". In a statement, he said, "The news of my coming to India is totally baseless and false. I have no plans to come to India till I don't feel safe from unfair prosecution. Insha Allah when I feel that the government will be just and fair, I will surely return to my homeland."