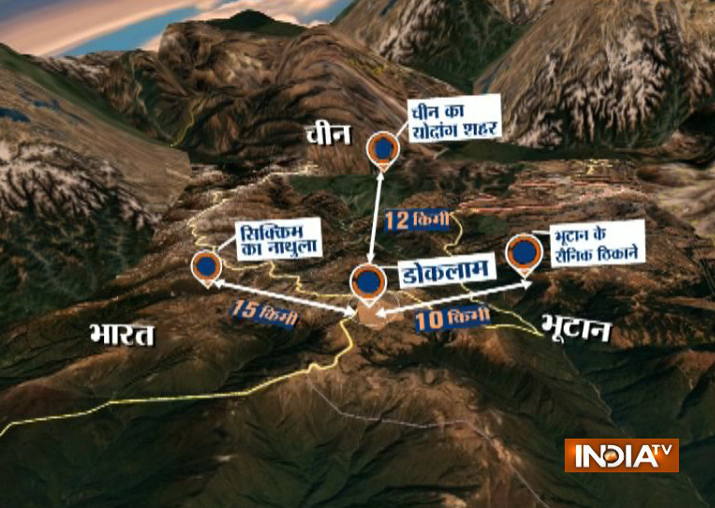 China today said that it will keep building infrastructure in Doklam area where People's Liberation Army (PLA) and Indian Army were locked in a stand-off for over two months last year. 
Justifying its stand, Beijing said that New Delhi "has no business to comment on construction activity on Chinese territory"
The reaction came amid reports that Beijing was building a huge military complex close to the site of the Doklam standoff with India.
Asked about reports citing satellite imagery of a Chinese military complex in the area, Chinese Foreign Ministry spokesman Lu Kang said, "I have also noted the relevant report. I don't know who offered such kind of photos." But at same time he said he did not have detailed information on it.
The reports raised concerns that the China may be preparing for another standoff with India.
Lu, however, said, "China's position on the Donglong (Doklam) area is quite clear. Donglong always belonged to China and always under China's effective jurisdiction. There is no dispute in this regard."
Asserting Chinese sovereignty over the area which is also claimed by Bhutan, he said, "China is building infrastructure for its troops and the people living in the area."
Latest satellite images, accessed by Indian media, show that the Chinese military has prepared as many as seven helipads, along with concrete posts, trenches and dozens of armoured vehicles. One of the images shows Chinese structure just 81 metres away from the Indian post of Doka la in Sikkim. 
While the image, taken earlier, shows two helipads – clearly demarcated by an H marking – in the disputed region, sources claim that the Chinese troops have built at least seven helipads in the area. The images also show the presence of military tanks, tank-carrying vehicles, artillery and other military equipment in the area.
Indian and Chinese troops had been locked in a stand-off for over two months last year in the Doklam area near Sikkim before "disengaging" on August 28. 
Earlier this week, Army Chief Bipin Rawat had said that India and China 'bonhomie' before the Doklam standoff has returned, adding that one should be 'prepared for anything'. The Army Chief had even noted that "as far as Doklam is concerned PLA soldiers are there in a part of the area, although not in numbers that we saw them in initially".