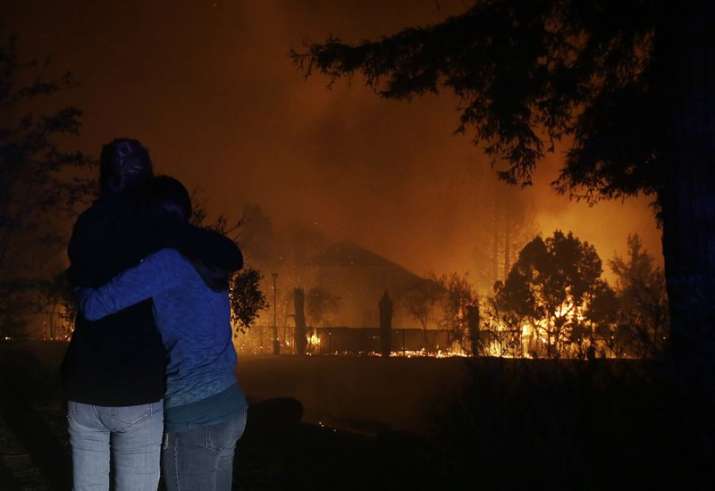 At least 15 people have died in California wildfires while over 2,000 homes and businesses and other structures have been destroyed in flames. Seventeen wildfires raged Tuesday across parts of seven counties. With mounting death toll, hundreds more firefighters joined the battle against the uncontained flames. 
In addition to knocking out electricity, the blazes damaged or destroyed 77 cellular sites, disrupting communication services that officials were rushing to restore, said Emergency Operations Director Mark Ghilarducci.
The fires that started Sunday night moved so quickly that thousands of people were forced to flee with only a few minutes of warning. Some did not get out in time.
The wildfires already rank among the five deadliest in California history, and officials expected the death toll to increase as the scope of destruction becomes clear. At least 100 people were injured during the blazes that started Sunday night. Nearly 200 people were reported missing in Sonoma County alone.
Fire crews and other resources were being rushed in from other parts of the state and Nevada. More than 240 members of the California National Guard helped ferry fuel to first responders because so many gas stations were without power. Guard members were also helping with medical evacuations and security at evacuation centres, said Maj. Gen. David Baldwin.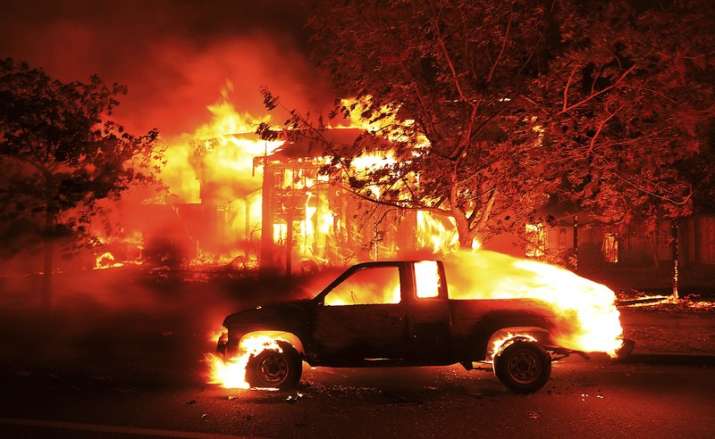 The flames have left little more than smoldering ashes and eye-stinging smoke in their wake. House after house is gone, with only brick chimneys and charred laundry machines to mark sites that were once family homes.
"This is just pure devastation, and it's going to take us a while to get out and comb through all of this," said Ken Pimlott, chief of the California Department of Forestry and Fire Protection. He said the state had "several days of fire weather conditions to come."
"It's literally like it exploded. These people ran out of their homes literally with minutes notice, barely with the clothes on their back," Pimlott said, adding that authorities didn't have time to give more notice. "They burned so quickly, there was not time to notify everybody."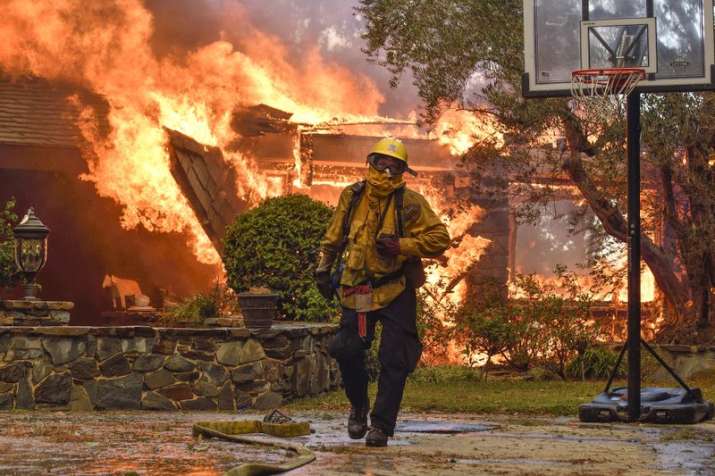 Among the victims were 100-year-old Charles Rippey and his wife, Sara, who was 98. The couple was married for 75 years and lived at the Silverado Resort in Napa.
A thick, smoky haze cloaked much of Napa and Sonoma counties, where neighbourhoods hit by the fires were completely levelled. Authorities warned residents not to return to their houses for safety reasons, citing the risk of exposed electrical and gas lines and unstable structures including trees.
About 3,200 people were staying in 28 shelters across Napa and Sonoma counties.
In Washington, President Donald Trump said he spoke with Gov. Jerry Brown to "let him know that the federal government will stand with the people of California. And we will be there for you in this time of terrible tragedy and need."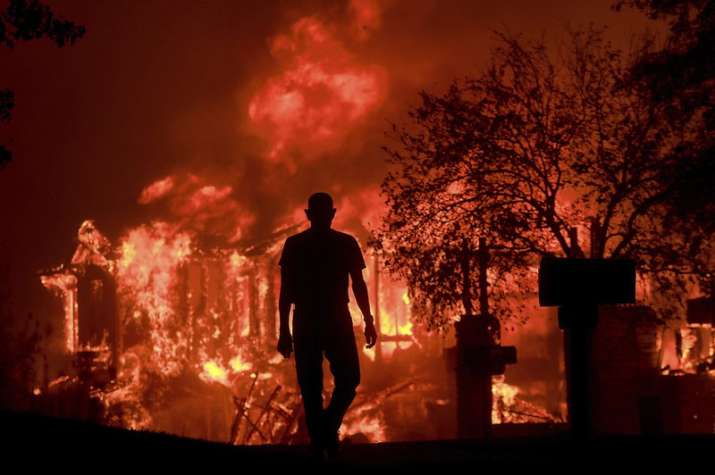 The government declared a disaster, which should give the state help putting out the flames.
More than 400 miles away from the wine-making region, flames imperilled parts of Southern California, too. Thousands of people were displaced by a wildfire in Orange County that destroyed or damaged 36 structures, including homes.
The blaze, which also disrupted major commuter routes, spread over nearly a dozen square miles in less than 24 hours even as a squadron of helicopters and airplanes bombarded it with water and retardant.
A large, dark cloud of smoke wafted for miles, turning the sky over Disneyland a hazy orange and raining ash on neighbourhoods near the Pacific coast.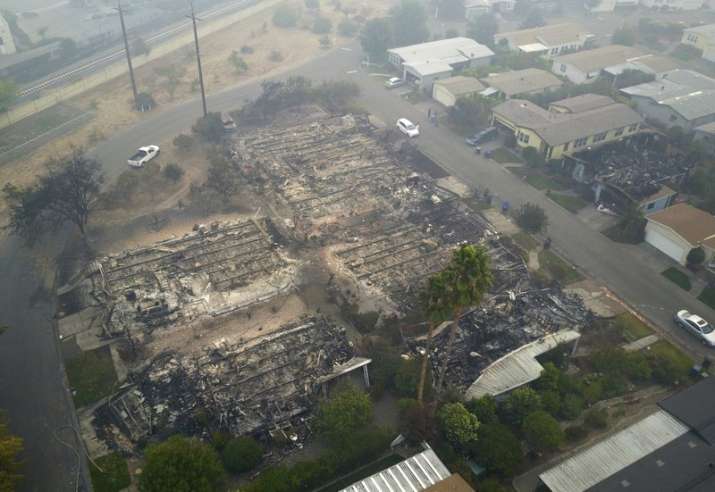 Authorities said the fire had been 25 percent contained and they hoped to let some residents return home soon.
Some of the largest blazes in Northern California were in Napa and Sonoma counties, home to dozens of wineries that attract tourists from around the world. The fires sent smoke as far south as San Francisco, about 60 miles (96 kilometres) away.
Sonoma County established a hotline to help families looking for missing loved ones. It's possible that many of the people reported missing were safe but simply could not be reached because of the widespread loss of cellphone service and other communications.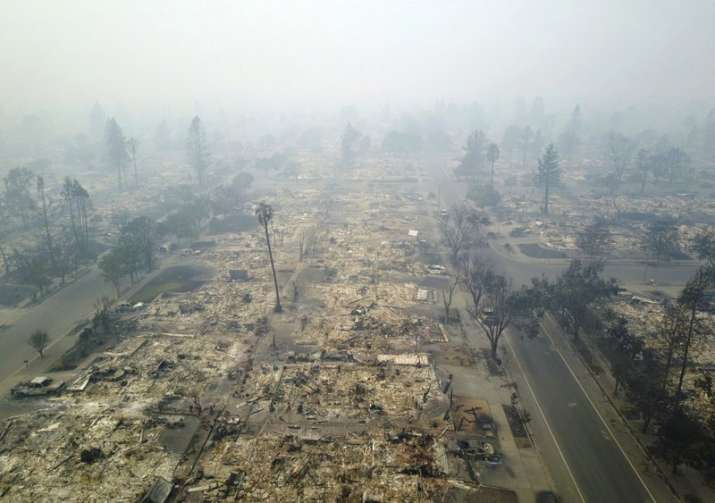 Much of the damage was in Santa Rosa, a far larger and more developed city than usually finds itself at the mercy of a wildfire. The city is home to 175,000 people, including wine-country wealthy and the working class.
It was unusual for so many fires to take off at the same time. Other than the windy conditions that helped drive them all, there was no known connection between the blazes, and authorities have not cited a cause for any of them.
(With AP inputs)