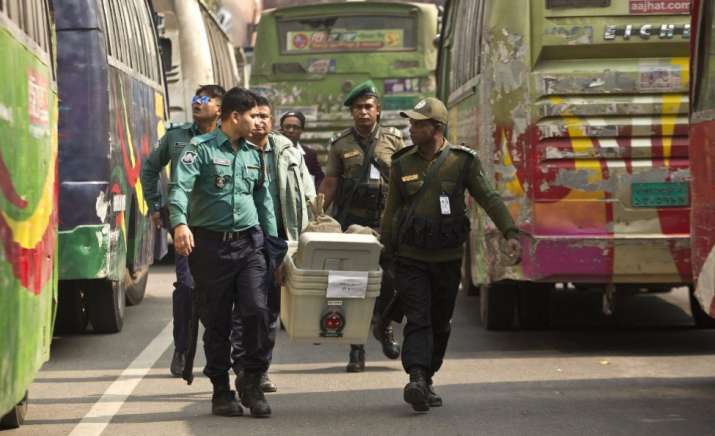 The people of Bangladesh will vote on Sunday to elect their representatives for 299 parliamentary seats. The voting will be held between 8 a.m. and 4 p.m.
In the run up the general election, the country witnessed widespread arrests and violence amid a massive military deployment to contain mounting political tension.
The general election will decide the fate of  the incumbent Prime Minister Sheikh Hasina as well as  three-time former Prime Minister Khaleda Zia who is currently in prison serving 17 years on corruption charges. 
The main opposition party -- the Bangladesh Nationalist Party (BNP) led by Khaleda Zia  -- said the elections could be rigged in favour of the ruling Awami League.
The current Prime Minister and leader of the Awami League, 71-year-old Sheikh Hasina, is expected to win which would pave the way for her third mandate since she came to power in 2009.
Khaleda's party has accused the Awami League of targeting BNP activists and fostering a climate of violence and intimidation in the lead up to the vote. In a message from prison, Khaleda urged her supporters to "guard voting centres", bdnews24.com reported.
Her message was read out by BNP Joint Secretary General Ruhul Kabir Rizvi during a media briefing. "She said, 'tomorrow will bring us the opportunity to free the nation from dictators, so go to your voting centres in groups and disregard every intimidation. Each vote you cast will pave the way for freedom of democracy and people'," said Rizvi. 
Khaleda also instructed polling agents not to sign any document without first finding out the exact number of votes received by each candidate, he said.
Clashes between the opposition and Hasina supporters have been taking place since the date for the election was announced.
Bangladesh authorities, meanwhile, instructed mobile network operators to shut down 4G and 3G data services across the country ahead of the election, bdnews24.com reported.
Mobile phone operators said they were "instructed" to shut down services for 33 hours.
Bangladesh Army chief General Aziz Ahmed called on voters to go to the polling stations without fear. Over 600,000 security forces, including personnel from the Bangladesh Army, marines and the police, have been deployed for the polls.
"They are conducting constant patrols to ensure that nobody attempts to terrorise or cause unrest. They are also working to ensure that voters are safe," said the Army chief.
The BNP has accused the government of a harsh clampdown which it claims has seen 10,329 opposition leaders and activists arrested. 
At least nine persons have been killed and over 13,000 injured in politically motivated attacks targeting the opposition, BNP leaders said.
The Awami League Secretary General Mahbubul Alam Hanif said the violent clashes were due to internal struggles within the BNP. 
Hanif dismissed accusations of lack of transparency and excessive use of force stating that it was obvious from the offset that the BNP were struggling to appoint candidates. 
(With agency inputs)