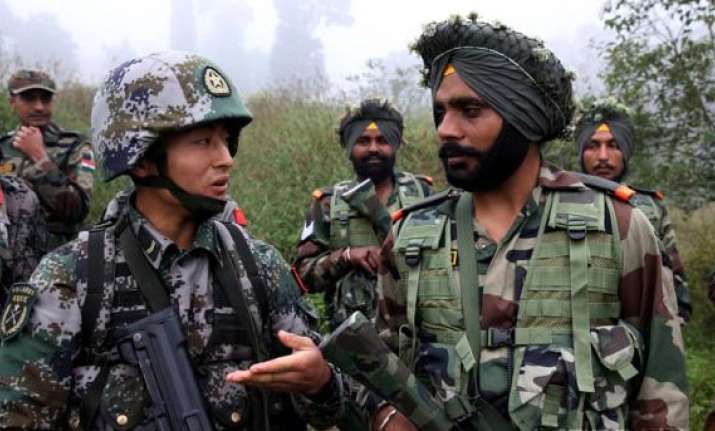 Locked in a military standoff with India in the Doklam area of the Sikkim sector for over 50 days now, China has stepped up its presence in the vicinity of the face-off site. 
According to a report in The Indian Express, China has pitched up around 80 tents for the People's Liberation Army (PLA) within 1 km radius of the Doklam standoff site. 
The number of Chinese troops in the area is believed to be less than 800 which means that it is not a PLA infantry battalion. Moreover, around 300 PLA soldiers are deployed at the face-off site, facing around 350 Indian soldiers. 
"There is no movement from the other side that has been picked up by us," official sources, who refused to comment on the presence of Chinese soldiers, were quoted by The Indian Express as saying.
Meanwhile, to counter increased Chinese presence, the Indian Army has also advanced its schedule for Operational Alert, also known as Op Alert, for units of 33 Corps looking after Sikkim's border with China.
 
An Op Alert is a 14-day-long annual training programme in which all Army units move to familiarise themselves with their likely area of operation. This excludes the time for movement and acclimatisation for deployment at higher altitudes. 
The Op Alert, which is usually held late September or early October, has been preponed to early August so that the Army can make preparations without giving signals to the Chinese. 
Army sources refused to comment on the advanced Op Alert but maintained that "there is no unusual movement being done from our side".
The report of the increased Chinese presence at the face-off site falls in line with the Chinese media's Thursday's belligerent rhetoric that the countdown to a military conflict between India and China has begun and New Delhi should come to its senses and withdraw troops from Doklam before it's too late.
"The countdown to a clash between the two forces has begun, and the clock is ticking away the time to what seems to be an inevitable conclusion," it said. "As the stand-off... enters its seventh week, the window for a peaceful solution is closing."
China has warned India of serious consequences if Indian troops were not pulled back from Doklam, which Beijing calls Donglang and claims is its territory.
India has proposed to China to simultaneously pull back from Doklam, which India and Bhutan say belongs to Thimpu. Beijing has refused.
Learnt lesson from 1962 war, Indian forces battle ready: Arun Jaitley
Meanwhile, Defence Minister Arun Jaitley on Wednesday said that the Indian armed forces are strong enough to meet any challenge to the country's security as he underlined that lessons have been learnt from the 1962 war.
He said India had "learnt a lesson" from the 1962 war with China that "the armed forces will have to be made fully capable on our own because even today the nation faces challenges from our neighbouring countries."
Compared to 1962, the armed forces were made stronger in 1965 and 1971 wars, Jaitley said.
In 1962, India had to face a war imposed by China and suffer severe reverses. However, in the wars of 1965 and 1971 thrust by Pakistan, India had emerged victorious.
"I agree that some challenges are still there. Some people are targeting our country's sovereignty and integrity.
But I am fully confident that our brave soldiers have capabilty to keep our country secure, may it be challenges on the eastern border or the western border," he said.
"The armed forces can give any kind of sacrifice for the security of the nation," the defence minister asserted.
Jaitley's message assumes significance as it comes amid a two-month-long border standoff with China in Doklam even though he did not specifically mention it.