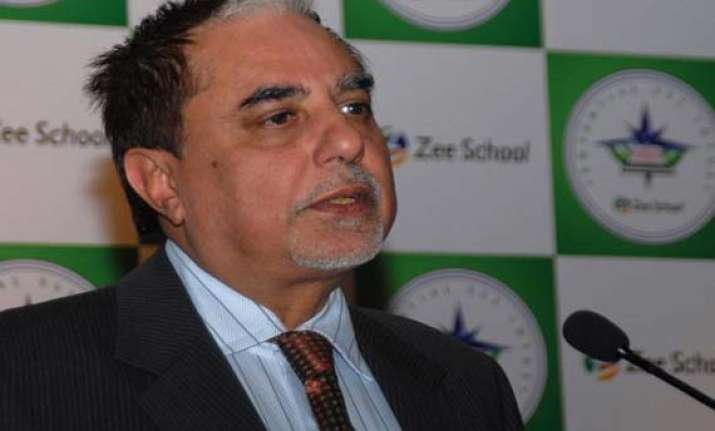 New Delhi, Dec 9 : Zee group chairman Subhash Chandra today said he had no knowledge about any Rs 100 cr deal between his channel and Navin Jindal-led Jindal Steel and Power.
Coming out of the Delhi Police Crime Branch office in Chanakyapuri after a second day of grilling, Subhash Chandra said, he would file a defamation case against Naveen Jindal.
"Yesterday they (police) could not finish their work. I have cooperated with them. Today they said they are down. I have answered all their questions and will cooperate in future also.
"They (police) asked me whether I had any knowledge about the Rs 100 crore deal or not, and I said, I had no knowledge about it."
Chandra said,  between Sept 22 and Sept 25, he had a text message exchange with Naveen Jindal, in which he (Chandra) texted him that he was in America, and if there was something urgent, he should call me.  "He (Jindal) texted me saying he was in Thailand and we would meet later", said Chandra.
Replying to questions from media, Chandra said, "There was no Rs 100 crore. They just offered Rs 25 crore from their side and the facts will come out in the open."
Chandra said, he would file a defamation case against Jindal. 'We will reveal about this from tomorrow onwards."
Subhash Chandra was questioned here  on Sunday by police for the second consecutive day in the case filed against two journalists of his TV channel for an alleged Rs.100-crore extortion bid from  Jindal Group company.
Chandra came along with his son and Zee Group's managing director Puneet Goenka at 2 p.m. at Delhi Police Crime Branch office. A few minutes after questioning, Goenka was allowed to leave. Chandra's questioning ended around 8 p.m., a police official said.
Investigators questioned Chandra and his son for nine hours Saturday. Late in the night, they were brought face-to-face with two Zee journalists Sudhir Chaudhary and Samir Ahluwalia, who are in two days' police custody for the alleged extortion bid.
"Today (Sunday) Chandra was brought face-to-face with Chaudhary and Ahluwalia," a police official told IANS.
Chaudhary and Ahluwalia allegedly tried to extort Rs.100 crore from Jindal Power and Steel Ltd. in exchange for not filing news reports linking the firm to the irregular coal blocks allocation.
A court here Dec 6 granted Chandra and Goenka interim protection against arrest till Dec 14. Chandra and his son were told to deposit their passports with the investigating officer and join the probe.
Police earlier served notice on Chandra and his son in November, asking them to join the investigation after the arrest of Chaudhury and Ahluwalia Nov 27.