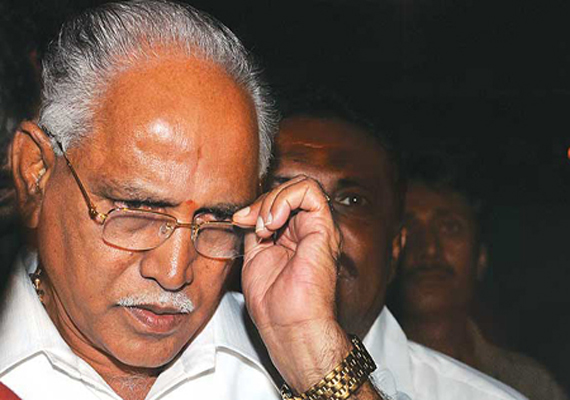 Hubli, Mar 12 : Smarting under the BJP high command's decision not to re-induct him, former Karnataka Chief Minister B S Yeddyurappa on Sunday  blew hot and cold, first saying he would not campaign for the party in the Chickmaglur Lok Sabha bypoll and later declaring that there were no groups in the party.

In a show of strength here by his supporters on the occasion of his 69th birthday celebrations, he invoked the legacy of Atal Behari Vajpayee and L K Advani to say that the party was united and that the opposition parties like Congress and JD-S were only dreaming of coming back to power. "The dream will not be realised," he said.

Earlier in the morning, before addressing the rally, he told reporters that he would not campaign for BJP in the Chickmaglur byelection because Chief Minister Sadananda Gowda had said that there were eight cases against him and it would have an adverse impact on the party's prospects.

"The central leadership promised to reinstate me but it did not materialise for some reasons. Nevertheless, I don't criticise them (for going back on their promise)," he said.  "From today onwards there is no groupism in the party. We all belong to former Prime Minister Atal Behari Vajpayee's party. I have not fought for power," Yeddyurappa said.

He also made it clear he would not ask the high command for chief ministership.

"It is true I had asked for reinstatement as Chief Minister for I desired to present a Rs one lakh crore budget.  Now I don't want anything. That is a closed chapter," said Yeddyurappa.

"I do not plan to quit BJP as of now and float a new outfit. None of my supporters, including legislators and ministers have kicked off a signature campaign to reinstate me as the Chief Minister," he told reporters.

The former Chief Minister had earlier expressed hope the high command would do justice to him after the High Court order had struck down a chapter in the Lokayukta report on illegal mining, which indicted him leading to his exit as Chief Minister last year.