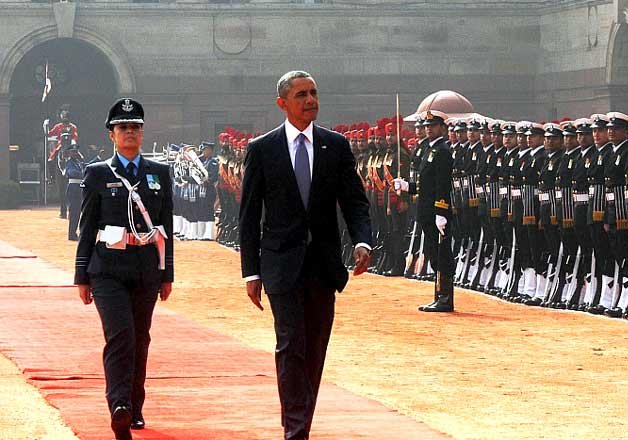 New Delhi: Wing Commander Pooja Thakur became the first female commanding officer to head the inter-services Guard of Honour inspected by US President Barack Obama on Sunday.
"It is a proud moment to be representing the Indian Air Force commanding the Inter-Services Guard of Honour and that too to Mr Barack Obama," Thakur said. Adding more to it, Thakur said, "I was excited and slightly nervous too. It's a huge responsibility and I had to live up to everybody's expectations".
Thakur was told only a week ago she would be commanding the Guard of Honour. "Though in the defence, one is always prepared, preparation required for ceremonies such as these is different," she said.
Asked how her parents felt when they first heard that she will be commanding the Guard of Honour, Thakur said they were proud. The officer's father retired as a Colonel from the Indian Army.
"They were very proud because they would be seeing me and hoping that I would do well. Presenting Inter-Services Guard of Honour to an important dignitary is a proud moment for everyone of us," she said.
Thakur, who joined the Indian Air Force in 2000, belongs to the administrative branch and is currently posted at 'Disha', the publicity cell under the Directorate of Personnel Officers at the Air Force Headquarters.
Obama was given a ceremonial reception on the forecourt of Rashtrapati Bhavan soon after he landed in Delhi for a three-day visit, with a grand ceremony followed by the Guard of Honour. The US President also received a 21-gun salute.
For the first time, all women officer contingents of the army, air force and navy will walk down the Rajpath today.