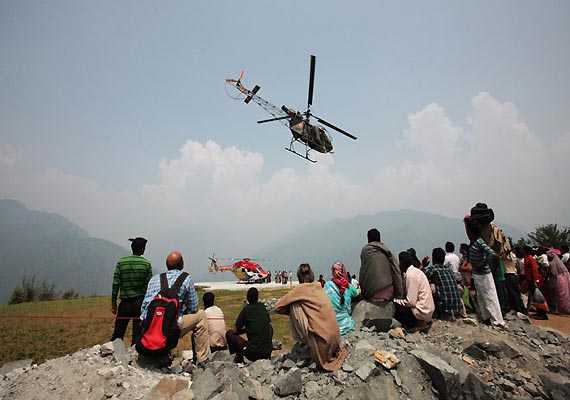 New Delhi, June 23: Fighting against unfavourable weather conditions, the Army and the IAF today continued their rescue operations in rain-ravaged Uttarakhand where more than 3,200 people were evacuated by defence aircraft from the worst-affected areas of the state.
"The armed forces put to use some of the best military skill-sets to great effect in the flash-flood affected zones of Uttarakhand and rescued hundreds of fatigued and exhausted stranded tourists almost seven days after the tragedy struck the Kedar Valley," a Defence Ministry release said.  
"Unfavourable weather prevailed in all sectors of Uttarakhand in the morning hours, yet IAF operations continued. 45 choppers airlifted more than 3,200 pilgrims in 250 sorties, dropping/landing 1,50,000 kg of relief material and equipment," it said.
The Ministry said the air operations began in affected areas after the C-130J undertook a weather recce mission while another aircraft carried fuel for chopper operations there.  
Under 'Operation Rahat', the IAF has flown 1,158 sorties and evacuated 9,228 people and dropped over 1,50,000 kg of relief material.
Meanwhile, the Army evacuated all 1,000 stranded pilgrims in the mountain folds around Jungle Chatti in Kedar Valley.  
"Using cliff assault techniques, skilled mountain rescue troops of Army evacuated 460 by foot through one of the most dangerous zones in Kedar Valley...launching two columns simultaneously from Dharasu and Barkot, Army reached Hanuman Chetti yesterday and surged towards Janak Chatti and Yamunotri this morning and evacuated all stranded pilgrims from Yamunotri," the release said.
The Army also air lifted hygiene and sanitation stores and chemicals, blankets, food packets and medicines.
More than 3,000 kgs have been dumped at major rescue centres while two medical aid centres each have been opened at Gaurikund, Goucher, Joshimath and Harsil.