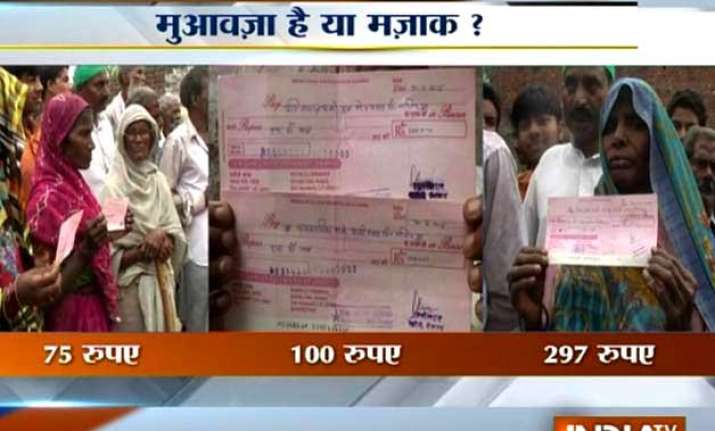 New Delhi: The Uttar Pradesh government has issued compensation cheques worth Rs 60 to farmers affected due to crop damage.
In Faizabad, the district administration has distributed cheques for miserable sums from Rs 60 to Rs 290 among farmers. While some farmers refused to cash in the cheques, several others turned down the relief.
Kamlesh, farmer, said, "My all crops were destroyed due to hailstrom and now I have received a cheque of Rs 75."
When the goof up came into the limelight, the district magistrate said he would look into the matter and necessary steps would be taken.
Commenting on the issue, Laxmikant Bajpai, BJP's state unit chief, said, "Cheques of Rs 100 have been issued to deceased persons. I have seven such cheques with me. According to rules, no cheques for an amount below Rs 700 can be issued, but they have given cheques of Rs 100."
Janata Dal (United) leader KC Tyagi said that it is like mocking the farmers.
"Such complaints have been received from various states. We will raise this issue in Parliament," he said.
Reacting to such compensation payouts, Faizabad district Chief Development Officer (CDO) Arvind Malappa Bangari, who is presently acting in the capacity of DM, said that it is a matter of laxity on the part of lekhpals.
Unseasonal rain and hailstorms from last few weeks have damaged standing crops worth thousands of crore rupees.