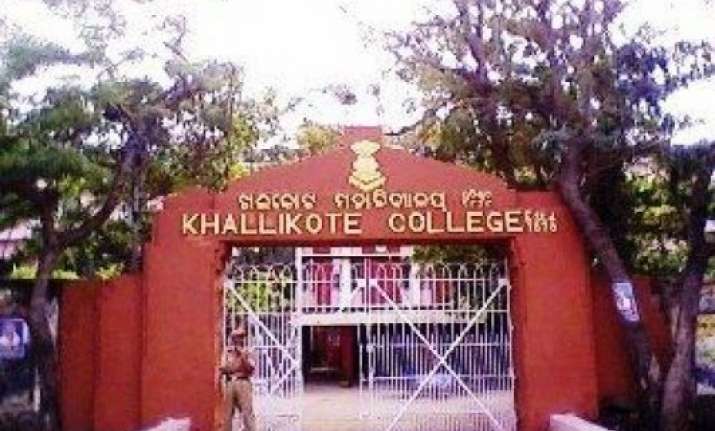 Berhampur (Odisha): About one year after the government-run 136-year old Khallikote College in Odisha's Ganjam district lost its autonomous status, a UGC team visited the college here to assess infrastructure facilities for restoration of the tag.
The five-member team interacted with Principal and faculty members on various aspects, besides visiting different departments and meeting college staff during its two-day visit that concluded yesterday, college sources said today.
"We are very much confident to get back the autonomous status as the college has improved its infrastructure facilities in the meantime," said Principal Radha Nath Rath.The 136-year-old institution is trying to revive its autonomous status since May 31, 2013.
The college got the autonomous status in 1999 for five years and subsequently got it renewed by the UGC from time to time after the latter assessed its infrastructure through an academic team.
The college has applied to UGC for renewing its autonomy with retrospective effect, official sources said. The state government and Berhampur University have already given their nods.
Autonomous status gives a college the freedom to follow its own syllabus and conduct examinations independently. The academic degree, however, is awarded by the university to which the college is affiliated to.
Visit of the UGC team also assumes significance as the college has decided to invite National Assessment and Accreditation Council (NAAC) team for rating of the college.
The state government has also decided to elevate it to a cluster university under Rastriya Uchhatara Sikshya Abhiyan (RUSA).
The government has already submitted a proposal in this regard to human resource development ministry. The proposal said the cluster university can be made by tagging four nearest government-run colleges, the sources said.
The college has 18 different departments, including postgraduate ones, with 4,500 students. The college has 47 teachers against sanctioned strength of 90.
The government has assured to fill up the vacant posts soon, said a faculty member.