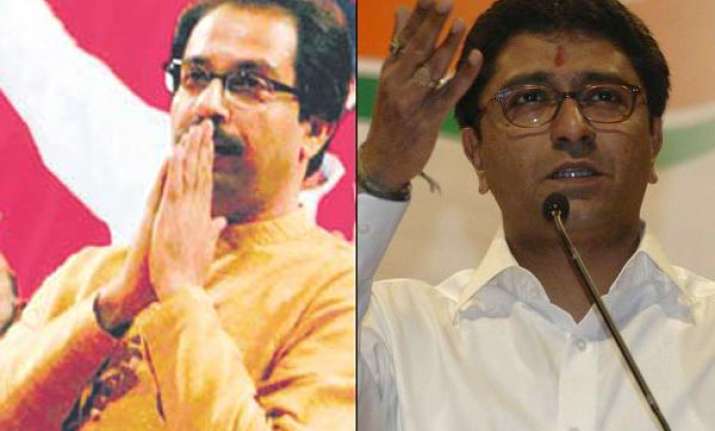 Mumbai, July 28: Shiv Sena executive president Uddhav Thackeray and Maharashtra Navnirman Sena chief Raj Thackeray on Thursday joined the morcha (procession) of mill workers from Byculla via Girangaon to Azad Maidan.  

The two warring leaders however walked with the mill workers separately.

While Uddha Thackeray joined at the head of the procession alongwith other Shiv Sena activists, MNS activists took up the rear led by their leader Raj Thackeray.

Elaborate security arrangements were made in view of the participation of both the leaders.

Shiv Sena and Maharashtra Navnirman Sena (MNS) agreed to join the morcha to highlight the demand for accommodation of the dispossessed mill workers.

The morcha covered Girangaon -the fabled textile district of Lalbagh-Parel.

Girangoan is an emotive issue in Mumbai's politics and the participation of both parties in the demonstration was to woo the Marathi manoos(people), say political observers.

The mill workers have also been supported by the BJP and the Peasants and Workers Party.

Mill workers union leaders Datta Iswalakar, Kishore Deshpande, Mandakini Chavan and others had met Sena executive president Uddhav Thackeray and MNS chief Raj Thackeray to solicit their support.

Uddhav Thackeray had assured the delegation that the Sena will firmly stand by the cause of mill workers who have lost their livelihood and dwellings following the 1982 strike and the fast-paced socio-economic transformation of Mumbai, post globalization Uddhav had told the union leaders that he would constitute a core group of Sena MLAs to pursue the housing issue with the state government.

Raj Thackeray also assured that the MNS would work for the betterment of mill workers.The MNS chief slammed the Maharashtra government for ignoring the mill workers' demand for a decent dwelling in South Central Mumbai.

"The migrant workers who come from UP and Bihar are offered a tenement on a silver platter. However, the mill workers, who are Mumbai's children, are being deprived of a house of their own," he added.

The Maharashtra government has long kept pending the issue of providing houses on ownership to mill workers. When Ashok Chavan was the chief minister the state government had announced that mill workers would be given free of cost tenement. However, Chavan did not fulfil his assurance.