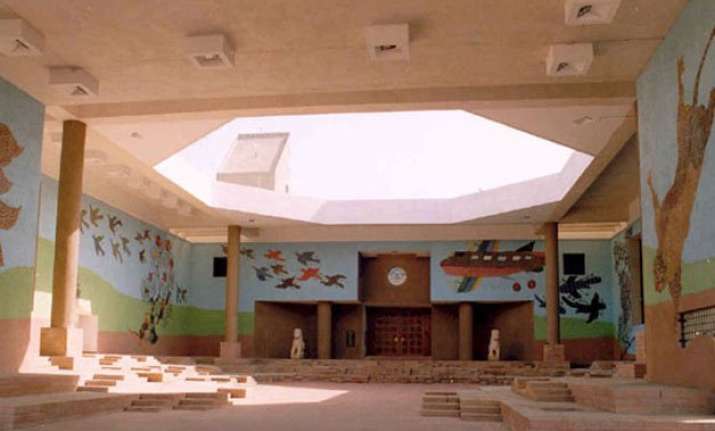 New Delhi: The memory of late tribal artist Jangarh Singh Shyam, a celebrated folk artist in India, who had previously showcased alongside western artists in Paris, is now being honoured through an exhibition here.  
The works of Shayam and his daughter Japani Shyam is currently on display at the Gallerie Ganesha, which is hosting the exhibition of around 20 works titled "Tribal Tales."
Jangarh Shyam, born in 1962, belonged to the Gond tribe of Madhya Pradesh. As a boy who lived in the jungles of Mandla in Madhya Pradesh before the artist J Swaminathan brought him to Roopankar Museum in Bhopal and introduced him to the modernist mainstream, where he gained almost instant recognition.  
The artist had in the year 1989 shown his works at the 'Magicians of the Earth' a mega art exhibition at Pompidou Centre in Paris alongside leading Western artists such as Francesco Clemente.
Shyam had also painted the interiors of the Madhya Pradesh Vidhan Sabha and the dome at Bhopal's Bharat Bhavan, one of the most prestigious museums of tribal and contemporary Indian art. He was among the first Gond artists to use paper and canvas for his paintings.
Even after his death in 2001, the Sotheby's auction of South Asian Art in New York in 2010 featured a canvas by him, first for any folk artist from India. In Saffronart's auction of folk and tribal art in 2012, his work was the most expensive priced at Rs 9 lakh.
"From his hometown where he created mural paintings on walls to his last works before his sudden death in 2001, he continued to evolve and his creativity is worthy of the greatest names in contemporary art," says Shobha Bhatia, Director, Gallerie Ganesha.
"His style is characterised by a feeling of intense vibration and the cohesion of his work reveals both the animist culture of Gond tribe and one of the foundations of Indian thought," she says.
Shyam's works are collected among others by the Pompidou Art Centre, Paris; the Saitagawa Museum in Tokyo and the Municipal Museum, Arnhem, Holland.  
The artist was also one of the five included in the "Other Masters: Five Contemporary Folk and Tribal Artists" exhibition held in 1998.
Shyam named his daughter Japani after his visit to Japan.  
Born in 1988, Japani started painting at a very early age and she says her father would always encourage her to paint the way she wanted and never criticized her work.  
Japani's main motif is the world of animals and birds, their struggle for food, their sense of camaraderie, their different mood.
Another motif that she paints is the world of rituals and beliefs among the Gonds which she was exposed to when she went to the villages of Pantangarh and Sonpur, where her parents Jangarh Singh Shyam and Nankusia Shyam came from.  The exhibition is set to continue till January 20 here.