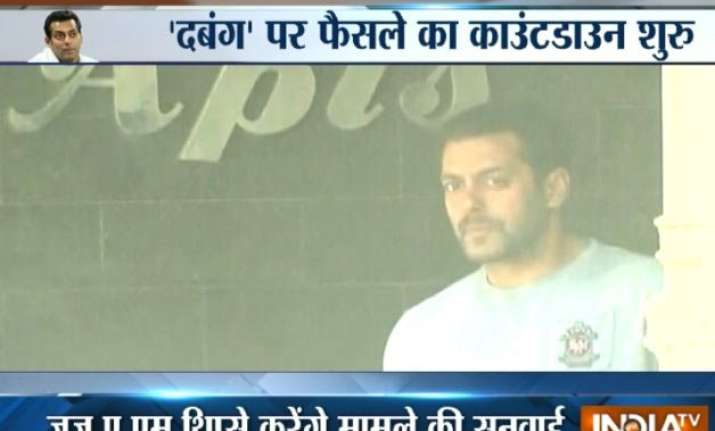 HC to hear Salman's bail plea today, actor unlikely to be present
Mumbai:
All eyes are on the Bombay High Court which will today hear Bollywood superstar Salman Khan's appeal against his conviction in the 2002 hit-and-run case and his plea for bail.
Amit Shah to launch BJP mass contact programme
Ahmedabad: BJP president Amit Shah will today launch the party's mass contact programme 'Maha Sampark Abhiyan' in Ahmedabad  and hold meetings with party workers during his three-day tour of Gujarat.
Satyam case: Court to hear arguments on bail pleas
Hyderabad: A local court will today take up the appeals filed by Satyam Computers founder B Ramalinga Raju and nine others, seeking suspension of their sentences in the multi-crore accounting fraud in the erstwhile IT company.
Hand chopping case: Quantum of punishment
Kochi: A special NIA court, which convicted 13 people in the sensational hand chopping case of a college professor in Kerala in 2010, will today pronounce the quantum of punishment.
Land acquisition bill in Lok Sabha
New Delhi: The land acquisition bill is being brought in Lok Sabha today with the government seeking to give another push to the controversial measure despite not having the numbers in the Rajya Sabha.
Delhi CM Kejriwal to Launch Farmer's Compensation Scheme
New Delhi: Chief Minister Arvind Kejriwal will today  launch his government's farmer compensation scheme by distributing cheques to farmers from outer Delhi's Bawana area who have suffered losses due to unseasonal rains.
Mulayam Singh and Akhilesh Yadav to participate in Samajwadi Party Vyapari Sammelan
Lucknow: Mulayam Singh Yadav and Akhilesh Yadav will today participate in Samajwadi Party Vyapari Sammelan.
Ramdev to visit Chandigarh
Chandigarh: Yoga guru Ramdev will today pay a visit and hold a meeting with the Haryana government in connection with promotion of yoga and ayurveda in the state.
Kanpur IMA doctors to go on strike
Kanpur: Several doctors of private hospitals and nursing homes linked with Indian Medical Association (IMA) Kanpur will today hold a day-long strike over various demands.
Moga bus incident: PYC to organise peaceful candle march
Chandigarh: Punjab Youth Congress will organise a peaceful, candle march this today at Landeke village in Moga on the day of Bhog ceremony of a teenaged girl who was molested and thrown out of a moving Orbit bus owned by the ruling Badal Family.
Russia's Space Cargo Ship to Burn up in Atmosphere
Moscow: Russia said an unmanned supply ship set for the International Space Station will fall back to Earth today and burn up in the atmosphere, after the spacecraft suffered a communications failure.