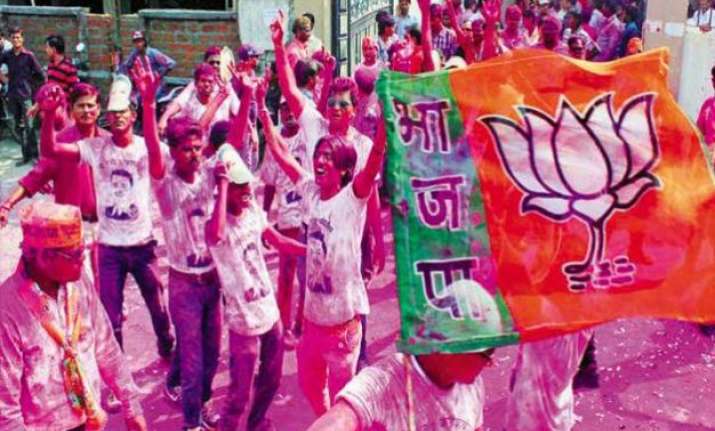 New Delhi: The proportion of Hindu population to total population in 2011 has declined by 0.7 percentage point (PP) while the proportion of Muslims grew by 0.8 %, according to the official data released today by the Registrar General and Census Commissioner.  .
As per the report 'Population by Religious Communities of Census 2011', the proportion of Sikh population has declined by 0.2 PP and the Buddhist population has declined by 0.1 percent point during the decade 2001-2011
Bengaluru: BJP today retained control of the IT city Bengaluru's civic body, the Bruhat Bengaluru Mahanagara Palike (BBMP), as it moved ahead of the Congress, winning majority of the seats in the elections held two days ago.
As per the latest reports, BJP has won from 100 wards.
Mumbai:  Strong economic fundamentals, value buying and attractive valuations boosted investor confidence in the Indian equity markets - leading a barometer index to gain 290 points  to end at 26,032.38; Nifty gains 71.70 pts to 7,880.70.
The investor confidence seemed to be returning a day after the mayhem in global financial markets and a crash in China which spooked the key Mumbai index into shedding some 1,625 points, or nearly 6 percent.
New Delhi:  In a late evening development cops arrested Patel Community leader Hardik Patel, a few hours after 21 year old leader gave Gujarat government a 48 hours deadline for meeting the long pending demand of OBC status for the community.
"Vastrapur police station's inspector M M Shaikh today went to the GMDC ground and detained Hardik Patel as he sat on dharna (and hunger strike) without taking police permission," police station officer Pravin Solanki told PTI.
Islamabad: Asserting that Kashmiri separatist leaders are not a "third party", Pakistan Prime Minister Nawaz Sharif has said that any dialogue process with India which does not include Kashmir issue will be futile.
"Kashmiri leaders are not the third party but an important party to this issue. Any decision on their future cannot be made without their opinion and consultation," Sharif said during a cabinet meeting yesterday.