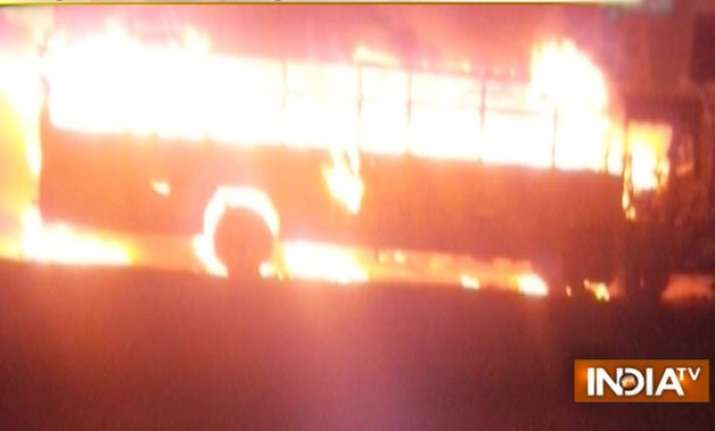 New Delhi:  Patel leader Hardik Patel released by Ahmedabad police after violence over his detention spreads.Members of Patidar community protesters destroyed  public property in Surat,the protesters set 2 motorbikes on fire at Shahibaug area of Ahmedabad.
The agitating protesters from Patel Community also  set 2 buses on fire in Surat, Gujarat. Section 144 imposed in Kapodra Police Station and Sarthana Police station areas after protesters turned violent in Surat, Gujarat.
Meanwhile Hardik Patel has requested  all people to maintain  peace in Gujarat and has also called  for an Gujarat Bandh  on Wednesday.
Earlier in a late evening development cops arrested Patel Community leader Hardik Patel, a few hours after 21 year old leader gave Gujarat government a 48 hours deadline for meeting the long pending demand of OBC status for the community.
"Vastrapur police station's inspector M M Shaikh today went to the GMDC ground and detained Hardik Patel as he sat on dharna (and hunger strike) without taking police permission," police station officer Pravin Solanki told PTI.
When asked where Hardik has been taken, Solanki said, "Hardik has been taken to the city police headquarters in Shahibaugh here as police suspected that if Hardik was kept at Vastrapur police station, people will gather there to protest."
Hardik Patel's aide and spokesperson of the Patidar Anamat Andolan Samiti Chirag Patel alleged that the police beat up the protesters including some children and women before taking Hardik away.
"Police first switched off all the lights at GMDC ground and then took Hardik somewhere. Before that police lathicharged and even beat up women and small children," Patel alleged.
During the massive rally of Patels today to demand reservations under OBC category, Hardik Patel made a sudden announcement that he will sit on a hunger strike, and demanded that Chief Minister Anandiben Patel should come to the venue to accept memorandum of the Samiti.
Ketan Patel, Nikhil Savani and Dhiru Mandaviya had joined Hardik Patel in the hunger strike. According to Hardik, Nikhil Savani was on indefinite hunger strike, while he and two others will be on hunger strike for 48 hours.
"We expect the CM to come here in two days. We will announce future course of action after that," Hardik had had said earlier.
Earlier in the day, Patel said that if within 48 hours Gujarat Chief Minister Anandiben Patel does not meet the agitating leaders then he will announce his future course of action.
"If you do not give our right (reservation), we will snatch it. Whoever will talk of interest of Patels will rule over Patels," he said.
"In 1985, we had uprooted Congress from Gujarat, today there is BJP. 2017 (state election year) is coming...lotus will not bloom in the mud, it will never bloom. If you will talk about our interest then only we will nurture your lotus," said Patel, warning the state government.
The numerically and economically strong Patel community of Gujarat converged in Ahmedabad in large numbers to take part in the rally, which brought the city to a grinding halt.
The 'Maha Kranti' rally comes after a month-long agitation by the Patel community for their demand of reservation.
Patels are unrelenting even though chief minister Anandiben Patel earlier expressed her inability to include the community in the OBC category and requested the leaders to end the agitation and come forward for negotiations. The CM had citied Supreme Court guidelines and judgements for her inability to include Patels in OBC category.
"Some parties say you do not not know about Supreme Court guidelines (of 50% cap on reservations), this cannot happen. If SC can open at 3.30 in the morning for a terrorist, then why not for the youth the future of this nation?" Hardik Patel said amidst cheers from the crowd.
"If the country's youth come on the streets to demand their right and if they do not get those rights, some of them will become Naxalites, some of them will become terrorists," he said.
Addressing the rally, 22-year-old Hardik said their agitation was apolitical.
"Some said your agitation is supported by Congress, some said your agitation is inspired by BJP, while some others said it is sponsored by Aam Aadmi Party, but we are apolitical," he stressed.
"We have elected representatives from Gujarat and we have sent representatives to the Centre, they are not there just to make laws or to amend the Constitution. We have sent you to serve our community...we only need our rights," he said.
He said that they expect their demand to be respected or they will "snatch" it.
"One of the friends told me you have led agitation against our people (as the Chief Minister is also Patel), I replied we have started this agitation because they are our people. They should also understand we have came out with this agitation to demand for our right," he said.
Holding that the community forms a major chunk, Hardik said, "We (Patel-farming community) are not in Gujarat only... We are 1.80 crore in Gujarat..., we also have a large presence in the country."
"A person told me that you (Patels) have a political clout in Gujarat, I told him...have you just seen Gujarat don't you see Bihar...even Nitish Kumar is ours...Don't you see in Andhra Pradesh... Chandrababu Naidu is ours," he said.
"In Gujarat we have six MPs, while in India we have 170 MPs...Nobody is aware of that...our seal will be there on dollars," he said.
After the rally, Patel said he will sit on a hunger strike at the venue till the chief minister (Anandiben Patel) does not come to take a memorandum from them.
( With PTI Inputs)