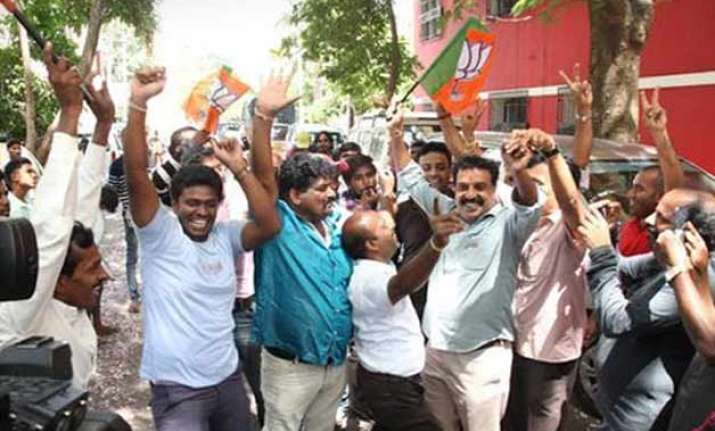 Bengaluru: BJP today retained control of the IT city Bengaluru's civic body, the Bruhat Bengaluru Mahanagara Palike (BBMP), as it moved ahead of the Congress, winning majority of the seats in the elections held two days ago.
As per the latest reports, BJP has won from 100 wards.
The Congress, the ruling party in the state, had invested much prestige into the battle had bagged 76, JDS 18 and others eight after counting of votes for BBMP polls, held on Aug 22, began this morning.
Putting all its might into the battle, the Congress had launched an all out offensive to unseat BJP.
The election to 198 wards of BBMP was held after a prolonged court battle, as Siddaramaiah led government sought to defer it on grounds of trifurcating the civic body.
A total of 1,121 candidates were in the fray. One candidate from BJP has already been elected unopposed.
During the 2010 BBMP polls, BJP had won in 111 wards; Congress in 65 wards, JD(S) in 15 and others 17.
After the counting began and the trends showed a BJP win, Prime Minister Narendra Modi termed it as hat trick of wins. "After MP & Rajasthan, BBMP poll results complete a hat-trick of wins for BJP. This is a win for politics of development & good governance," he wrote on micro blogging website.



BJP MP frpm Bengaluru Ananth Kumar dedicated the win to the people and said, "I dedicate this clear mandate to the people of Bengaluru and BJP workers, they've created this historic win."
Union Finance Minister Arun Jaitley also tweeted, "Mindless negativity is counterproductive. This is the electorate's message to Congress after M.P., Rajasthan and Banguluru civic elections."