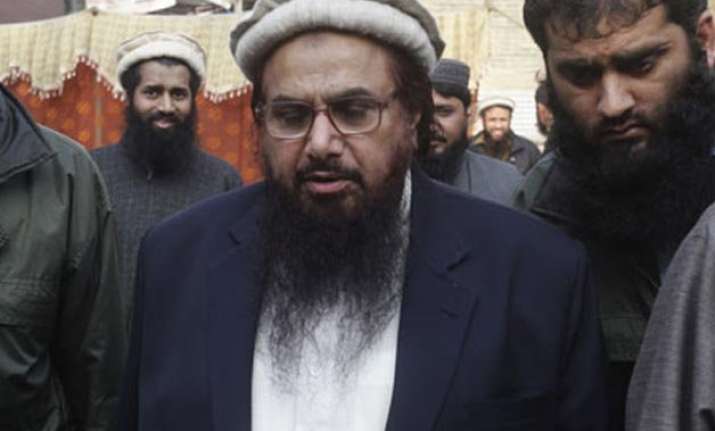 New Delhi: The Border Security Force (BSF) guarding India's border in Jammu and Kashmir have noticed suspected movement by one of the most wanted terrorist, Hafiz Saeed, across Samba sector on Saturday night.
Reports say that the BSF noticed vehicular movement at the Pakistan outpost at Sukhmal, just 500 metres across the Indian border out post (BOP) in Samba sector. The jawans have also heard 'Hafiz Saeed zindabad' slogans. This vociferous slogan has triggered suspicion that either a top Lashkar-e-Taiba (LeT) commanders or Saeed himself was present there.
A top BSF official said that due to the darkness and the thick cover of trees the jawans could not see who these men were but suspected that Saeed or other LeT commanders could have been visiting the border.
Post incident, the BSF is maintaining high vigil suspecting any possible attempts by the terror outfits in the region.
Intelligence reports have pointed that Hafiz Saeed's border action teams are working with Pakistani troops. Together they are making regular attempts to target Indian jawans and creating furore among locals.
The Jammu and Kashmir border was quiet on Sunday after Pakistani gunfire left two Indian soldiers and a civilian dead on Monday Saturday and forced hundreds to flee their homes along the frontier.
A total of 562 incidents of ceasefire violations by Pakistan occurred in 2014, the highest since the truce came into force in 2003.
The Indian intelligence agencies had recently said that Saeed, during his visit to Pakistan Occupied Kashmir (POK) after devastating floods in the Valley, asked the LeT militant group to motivate the homeless and jobless youths of Kashmir and POK for joining militancy.
Saeed is a major irritant in the already strained relationship between India and Pakistan as New Delhi has expressed its resentment over his not being brought to book for the Mumbai attack.
He runs the Lahore-based Jamaat-ud-Dawa (JuD), which he claims to be running for humanitarian charity. The JuD has been blacklisted by the US, which has described it as a foreign terrorist organisation.