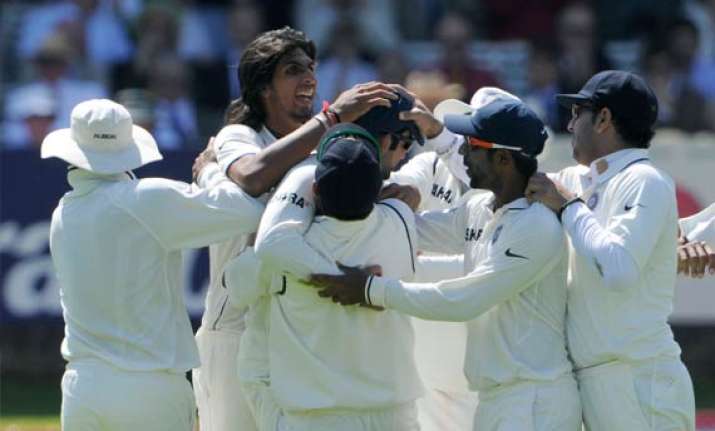 London, July 27:  The Indian cricket team and the cricket board (BCCI) have been reported by the Indian high commission to the ministry of external affairs (MEA) in Delhi for failing to attend a reception on July 18, which was to be hosted by the Indian high commissioner to the United Kingdom, reports Times of India.
It is mandatory under BCCI rules for a touring Indian side to accept invitations for such occasions.

It was reliably learnt that much to the high commissioner Nalin Surie's embarrassment, he had to hurriedly abandon his planned hospitality, after he came to know that skipper MS Dhoni had scheduled a function the same evening at a posh central London hotel to raise money for his charity.

According to a former Indian cricketer, members of the Indian squad currently touring England, including Sachin Tendulkar, preferred to attend the fundraising event which garnered £450,000 for a foundation established by Dhoni.
 
He remarked: "Today's players have become too big for their boots."

It was learnt that about 100 invitation cards had already been distributed for the high commissioner's do, which was intended to be a get-together for over 200 people on the lawns of his residence at Kensington Palace Gardens.
 
Leading personalities from cricketing and diplomatic circles were on the list of invitees.

N Srinivasan, secretary of the BCCI, when asked if Dhoni and company had not honoured the board's commitment, said: "Not to my knowledge."
 
He, then, vaguely alleged "dates were changed", seeming to maintain that the BCCI was not to blame, before abruptly disconnecting the phone.
However, the report received by the MEA clearly records that the BCCI had suggested July 18 as the date suitable for the Indian side. South Block has also been informed in writing that it was Srinivasan himself who spoke to the high commission.

There has, sadly, been a catalogue of diplomatic incidents involving an Indian cricket side in London. In 1974, Ajit Wadekar's squad was ticked off after arriving late for the high commissioner's party.
 
Two years ago, the Indians turned up at Suri's predecessor, Shiv Mukerjee's cocktail wearing jeans and vests, when they were expected to be in suits or blazers.

The manager of the Indian touring party, Anirudh Chaudhry, was too busy to speak on the phone. A text message on the subject also failed to elicit a reply.
 
It is, however, understood he has been in touch with the mission to convey that the mix-up was "unfortunate"; and that the visitors were keen to make amends by attending a reception at a later date.