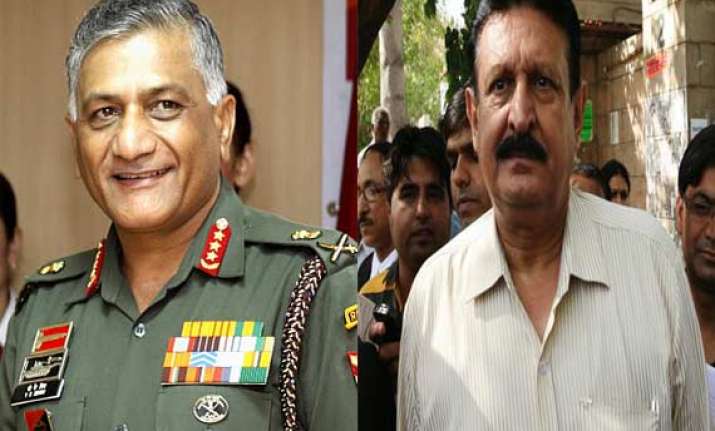 New Delhi: The CBI on Tuesday charged Lieutenant General (retd) Tejinder Singh with allegedly offering a Rs. 14-crore bribe to then army chief VK Singh in 2010, on the basis of circumstantial evidence that includes then defence minister AK Antony's statement.
Tejinder Singh has been chargesheeted under Section 12 of the Prevention of Corruption Act.
The CBI filed the chargesheet before the Patiala House court in the national capital in the alleged offer of bribe on behalf of Vectra group owner Ravi Rishi.
The alleged offer was made to clear the purchase of 1,676 "sub-standard" Tatra-BEML trucks at a time when VK Singh had sought a review of acquisitions from the trucks' manufacturer, said the charge sheet, which was submitted in a city court.
In March 2012, VK Singh had alleged that Tejinder Singh had offered him Rs 14 crore for clearing a tranche of "sub-standard" Tatra trucks for the Army.
He alleged that Tejinder Singh met him on September 22, 2010, and offered him the money on behalf of Ravi Rishi.
An FIR was filed in this regard in October 2012.
Sources said that the Defence Ministry notes proved Tejinder Singh visited VK Singh on the dates mentioned in the complaint.
The CBI launched its probe in October 2012 on the defence ministry's request.
Since the alleged offer was made inside the army chief's chamber, no eyewitness accounts were available and a purported recording of the conversation, provided by VK Singh, did not prove useful.
"Among other key evidence are versions of the then army chief's personal staff, who said that after the meeting in which the bribe was offered, the former army chief instructed them to never again let the accused into his official chamber," the agency source said.
VK Singh had told the CBI the alleged offer had left him seething and he had thrown the accused out of his office.