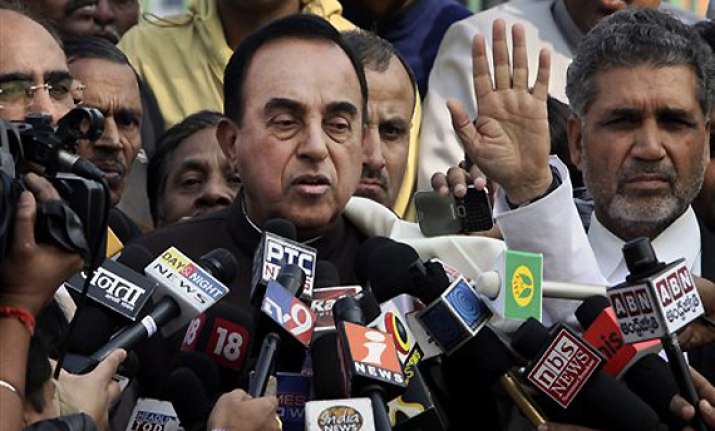 New Delhi, Feb 4: Refusing to give up his efforts to make Home Minister P Chidambaram a co-accused in 2G scam, Janata Party chief Subramanian Swamy today said he will move the Supreme Court within a month to challenge a Delhi court's order rejecting his plea as he has a "very very strong case".

Swamy described Special CBI Judge O P Saini as a "good man" but said the "order is bad" and he was surprised by it.

"I will appeal against this order in Supreme Court. The order is bad because the Judge has in his order agreed that Chidambaram and A Raja (former Telecom Minister) had jointly decided to follow the 2001 policy of first-come first-serve for selling spectrum," he told reporters here hours after the judgement.

Calling the verdict as an "interim relief" to Chidambaram, he said the court has also agreed that Chidambaram and Raja agreed on dilution of equity and wondered why only Raja had been jailed on the basis of these charges.

"The Judge said that I did not prove how Chidambaram acted in a malafide manner in the fixation of spectrum price at 2001 rate. This comes only during the time of trial," he said.

Asked whether he would appeal in the High Court or Supreme Court, Swamy said the Supreme Court had said earlier that a trial court's decision could be challenged directly in the apex court.

"I will appeal against the order in the Supreme Court within a month's time. I have three months' time to appeal," he said, insisting that he has a "very very strong case" both against Chidambaram and A Raja, who is the main accused in the 2G spectrum allocation scam.

Vowing to "fight this battle till the end", Swamy said he would prove his case in the Supreme Court and emerge victorious.

"It has happened earlier. The Delhi High Court refused to give orders on sanction. But, the Supreme Court has given its verdict. I will go to the Supreme Court and will emerge victorious in this war," he said.

Swamy also sought to know how Chidambaram cannot be tried when Raja is being tried on same charges.

"How can Chidambaram be vindicated by one court unless he is vindicated in all the courts," he said.

Asked whether he was disappointed, he disagreed and said "this is part of the game. May be only journalists are disappointed."

Describing the order as "nothing new for me", Swamy said, I will go for appeal...This is not the first time that a petition has been dismissed."

He recalled that his appeals against High Court decisions in the cases of grant of sanctions and cancellation of 2G licences had been upheld by the Supreme Court.

"I wrote to the Prime Minister seeking sanction to prosecute Raja. I wrote five letters to him. There was no reply, but the Supreme Court has said that any citizen can seek sanction of any official," he pointed out.

He also attacked Telecom Minister Kapil Sibal for saying that there was 'zero loss' in the 2G spectrum scam. "He cannot count beyond zero," he said.